Pot Short Sellers Make First Profits of 2020 Amid Stock Sell-off
(Bloomberg) -- Betting against cannabis stocks became a money-making proposition for the first time this year on Monday amid a broad market sell-off.
Short sellers in the 20 most-shorted pot stocks made $237 million as of midday, pushing them into the black for the first time in 2020 with $107 million in total mark-to-market profits, according to data from financial analytics firm S3 Partners. Total short interest in the top 20 cannabis stocks is sitting at $3.5 billion.
The ETFMG Alternative Harvest ETF, which tracks the sector, fell as much as 5.6% to a record low as the spreading coronavirus prompted investors to flee risky assets. Three Canadian cannabis producers were also downgraded at Cowen & Co.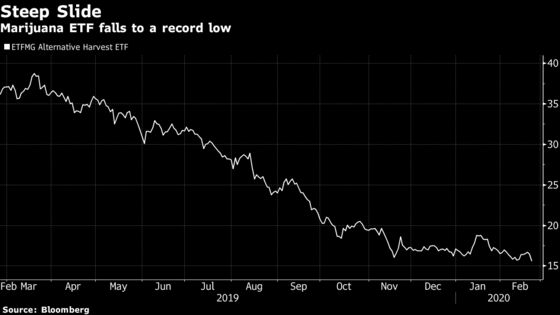 Investors betting that cannabis stocks would fall lost $102 million in January as shares rebounded from a steep decline in 2019, S3 said. This compared to just over $1 billion in profits last year.
Shorting pot stocks is an extremely expensive proposition, with an average borrow fee of 31% due to a limited public floats at many of the companies.
"If short selling losses continued to mount after January's poor short performance, we might have seen some short covering in the sector. But with most of the sector's short positions now profitable we will probably see an upsurge in sector short selling," Ihor Dusaniwsky, managing direrctor of predictive analytics at S3, wrote in a note.