Pot Prohibition Ends: Sights and Sounds From Across Canada
(Bloomberg) -- It's an historic moment for Canada with the legalization of recreational marijuana across the country going live on Wednesday, and people all across the country are up early in the morning to line-up for the grand opening of weed stores or to celebrate at breakfast events.
Below are several voices across the country.
Isaac Langille bought the legal limit of 30 grams, spending C$344 ($265) on products from Aphria Inc. and Organigram Holdings Inc. "I'm super happy, this is an historic day for Canadians and for the world because we're really setting a precedent here."
Langille said he was pleased with the prices, with the low end starting around C$6. "I think it's going to help with keeping the black market quiet."
Aldean Cromwell, 29, who's been smoking weed since he was 12 years old, also joined the line at the Nova Scotia Liquor Corp. He wasn't as impressed by the prices at the government-run store.
"This doesn't change much for me as far as how I smoke weed or where I get my weed from, I just want to come see what it does," Cromwell said. "I think it's a little crazy to be honest. C$10.99 and above for premium? It's probably about C$5 to C$6 bucks for what they're calling premium here in the black market. I'll be back on the black market for sure."
Chelsea Cox, 26, is a regular smoker and says legalization "makes accessibility a lot easier," though she'll continue to turn to the black market for edibles and oils until they're available legally next year. "Until they have it available through a legal source it's like, where else are you going to get it?"
In Ontario, the fact that access to marijuana is limited only to the government-run website -- retail outlets won't come until next year -- didn't deter celebrations in Toronto, Canada's biggest city. Parties started early with a "Wake 'n Bake" at the Friendly Stranger cannabis culture shop on Queen Street West, including breakfast burritos, coffee, a fire pit and what they dubbed Canada's first community toke.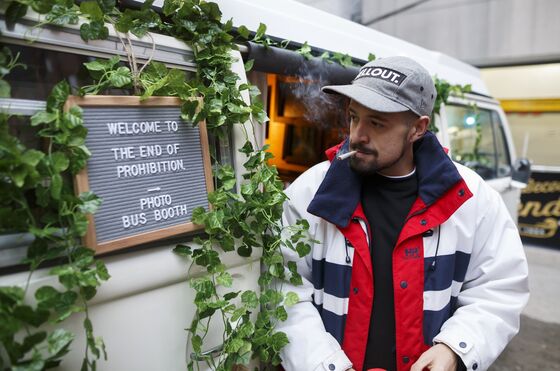 "For too long people have been getting into trouble over a plant," Dave Eakins, a glass blower at Wake 'n Bake, said. "Canada is the second country in the world to be legalizing cannabis. How great is that?" Eakins adds that "it's history in the making."
Still, few patrons were lighting up at the event. "Pot smokers aren't up at this time of day!" said Robin Ellins, co-founder of the Friendly Stranger.
The Societe Quebecoise du Cannabis, the province-run pot retail unit, is selling pot for only C$5.29 a gram.
"We're adjusting to the market, we don't want prices to be a barrier to entry, especially at first," Alain Brunet, CEO of Societe des Alcools du Quebec, said in an interview with Montreal's 98.5 FM radio station. "You can evaluate prices on the black market across Canada, and it's in Quebec that the prices are the lowest. So we had to adjust to prices on the black market in Quebec."
Societe des Alcools du Quebec is the liquor board responsible for pot sales in the province.
"We don't want to have the best prices, this isn't a matter of financial profitability," Brunet said. 'I'm not a retailer. I have a social mission. I have a goal to protect public health. I'm not there to compete with the market."
The low prices seemed to be drawing a crowd in Montreal: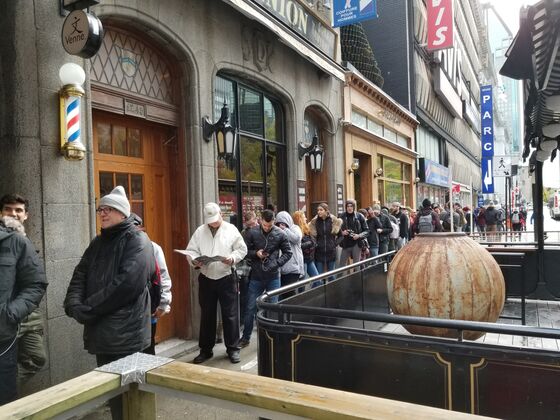 Further west, in Manitoba, security guards were directing traffic in the parking lot at Delta 9's south Winnipeg store, where some eager customers had been lined up since Tuesday evening. The company's online sales started at midnight, and some products have already sold out, said spokesman Gary Symons. Initial demand was so strong the online portal recorded 500 sales in an hour, totaling C$50,000.
"It's a huge amount," Symons said, standing near a glass display case showcasing samples of various cannabis strains. "It's going to be a bong show."
Thirty-four year-old Steven Stairs was the first to line up outside the storefront on Tuesday evening at 6 pm. For the medical user, who is legally blind and has been consuming cannabis for a decade to treat glaucoma and cataracts, the first day of legal sales signals a shift for Canada and society.
"I'm extremely elated," said Stairs, who slept outside in the below-freezing temperatures with provisions including a tent, sleeping bag and marijuana. "I'm very grateful this happened in my generation."
Garry Flanders, 50, was in line since 1 p.m. Tuesday in front of the Nova Cannabis store in Calgary to be its first customer on Wednesday. Wearing an olive winter jumpsuit, sunglasses and a brown cap, Flanders said he was there for Cannabidiol extract, or CBD, to help him find relief from stroke complications.
"It's been a long time coming,'' said Flanders, who is speech-impaired from the stroke. "I'm looking for a little bit of relief.''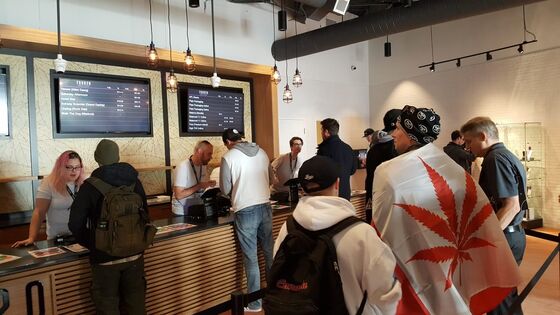 Ontario's decision to delay store openings until April will help pot producers ensure shops elsewhere in Canada are supplied as they'll have more time to prepare for a surge in demand from the country's biggest province, Jeff Mooij, the founder and CEO of Four20 Premium Market marijuana stores in Calgary, said in an interview outside his number one venue.
"Ontario will ignite a whole new world in April,'' said Mooji, who has pioneered legal pot in Calgary with the city's first medical dispensary in 2014. "The LPs will have caught up by then,'' he said in a reference to licensed producers.
Legalization Day in Vancouver was business as usual. The Pacific Coast city dubbed "Vansterdam" has long been known for its world-class pot and lax approach to enforcement. Many of its ubiquitous marijuana dispensaries continued to operate Wednesday despite warnings this week by the provincial public safety minister that they either close voluntarily apply for a retail license or risk being shut down by law enforcement.
Jamie, a 52-year-old artist who asked that her last name not be published because she doesn't want to be banned from entering the U.S., visited a dispensary in Vancouver's Chinatown first thing in the morning to check that it was still operating.
"What's changed?," she asked. "I've been buying recreationally at the dispensaries for years."