Illinois Governor Seeks to Legalize Marijuana, Sports Bets
(Bloomberg) -- Illinois Governor J.B Pritzker proposed legalizing and taxing marijuana and sports betting as a way to help the worst-rated state shore up its finances as he seeks to rein in pension costs and eliminate a backlog of unpaid bills.
Legalizing and regulating adult-use cannabis would bring in $170 million in licensing and other fees in fiscal year 2020, Pritzker said Wednesday during a speech to lawmakers in Springfield, the state capital. Sports betting revenue would add another $200 million, he said. Combined with other measures, like a tax on insurance companies to help cover Medicaid costs, his plan would bring in about about $1.1 billion in new revenue, enough to cover about one-third of the government's budget deficit.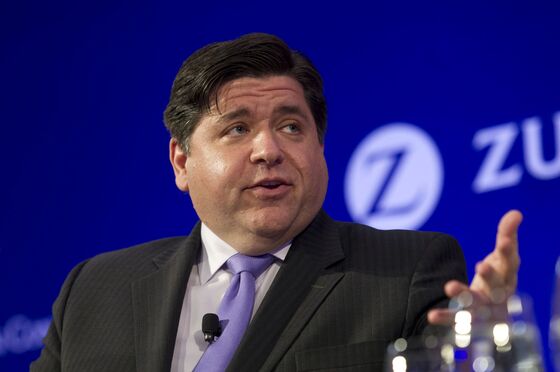 Pritzker, a Democrat who took office last month, is also considering a broad plan to inject cash into the state's struggling pensions by selling $2 billion of bonds, implementing a progressive income tax and using billions of dollars of government assets to reduce the massive debt owed to the retirement system. Those obligations have left Illinois with a lower bond rating than any other state.
"To get to fiscal stability and eliminate our structural deficit, there's no quick fix," Pritzker said. "It took decades to get us into this mess. It will take at least several years to get us out of it. We must therefore embrace a multi-year approach with fair principles and smart investments in our people."
Illinois is facing a $3.2 billion deficit. The retirement system only has about 40 percent of the money it needs to cover promised benefits, leaving the state government responsible for the $134 billion debt.