Positive Outlook for Australian Wheat Despite Virus Upheaval
Coronavirus-related headwinds are unlikely to offset the positive impact of widespread early rains for Australia's grain growers, who are preparing to plant winter crops in coming weeks, according to Rabobank.
"We have possibly the best outlook for production in a couple of years in many areas, mostly due to significant rainfall," Rabobank senior grains analyst Cheryl Kalisch Gordon said in an interview. The outlook from the Bureau of Meteorology for the start of the planting season is also the most positive for several years.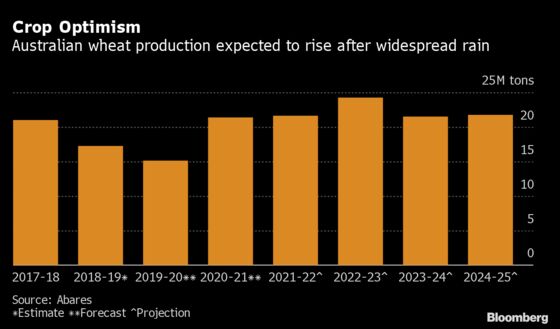 The Australian Bureau of Agricultural and Resource Economics and Sciences expects wheat output to rise to 21.35 million tons in 2020-21, though more bullish forecasts have production almost doubling.
While there are some concerns about access to agricultural chemicals from China and seasonal labor from interstate and abroad, as governments close borders to help stem the spread of the pandemic, those factors are unlikely to outweigh the improved seasonal conditions in much of the country, providing they hold up for the rest of the season, Kalisch Gordon said.
Food production and supply chains remain a priority and won't be affected by any state border closures or movement restrictions, Agriculture Minister David Littleproud said this week.
Despite the assurances and generally positive sentiment among growers, there's "a little bit of nervousness" about access to inputs, due to inconsistent messaging between the country's state and federal governments, said Brett Hosking, chairman of industry group GrainGrowers.
Access to labor amid state border lockdowns is also a concern, while protecting farms from coronavirus outbreaks amid an influx of seasonal workers is front of mind, Hosking said.
"Most growers are preparing to be santizing tractors between shifts or trying to limit one machine to one operator," he said.
"In a farming situation, when there might be four or five people responsible for putting the crop in and they could quite easily all be infected, it pretty much shuts the farm down," he said. "No grower wants that to happen."
Wheat futures in Chicago climbed to two-month highs this week on demand for flour as the coronavirus pandemic spurred consumer buying of staples and fears that some producers may impose shipment constraints.
READ MORE:
Australia's Farms Could Face Crop Chemical Shortage: Nufarm
Australian Agri Export Outlook 'Murky' Even as Dollar Plummets
Rains to Help Double Australian Wheat Crop in 2020-21, Says IKON