Portland Protesters Sue Trump Over Beatings, Detentions
(Bloomberg) -- A group of Black Lives Matter protesters from Portland, Oregon, sued President Donald Trump over what they say was an indiscriminate use of violent tactics against lawful demonstrators, the third such lawsuit in recent weeks.
The protesters, represented by the American Civil Liberties Union, said more than a hundred heavily armed federal law enforcement agents, clad in military-style camouflage gear, shot them in the head and body with impact munition and pepper balls, sprayed them in the face with with pepper spray, and shoved them to the ground and beat them with batons.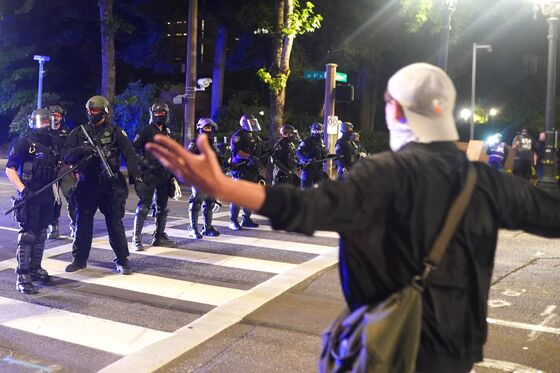 Among those suing is Mark Pettibone, a 30-year-old Black Lives Matter supporter who last month was famously snatched off the street and stuffed into the back of an unmarked minivan by law enforcement agents wearing camouflage. He was held in a cell in the federal courthouse and later released without being charged or getting an explanation why he had been detained, according to the complaint.
"I still haven't fully come to terms with what it means that I was kidnapped by my government," Pettibone said in a statement from the ACLU. "People need to know what happened to me and the government needs to be held accountable so that what happened to me doesn't happen to someone else."
Also suing is Christopher David, a Navy veteran who said in the complaint he suffered a broken hand when federal officers struck him repeatedly with a baton after he questioned their actions.
Trump has railed against what he calls "anarchists and agitators" in Portland and has repeatedly urged the mayor and governor of Oregon to crack down on the protests, which have gone on for almost three months.
Also named in the complaint is Chad Wolf, the acting Secretary of the Department of Homeland Security, the Department of Homeland Security and the U.S. Marshals Service. The Justice Department didn't immediately respond to an email sent after regular business hours seeking comment on the lawsuit.
The warrantless arrest of Pettibone and other protesters who hadn't committed any federal crimes was part of an officially sanctioned mission, "Operation Diligent Valor," in support of Trump's policy to target Black Lives Matter protesters "as violent left-wing extremists or anarchists undermining white nationalist values," according to the complaint.
The protesters seek damages for injuries they sustained and a court ruling that the Trump administration and its federal agents in Portland violated the Constitution and federal law.
The ACLU earlier filed lawsuits on behalf of journalists and of medics over the actions of federal law enforcement at the Portland protests.
The case is Pettibone v. Trump, 20-cv-01464, U.S. District Court, District of Oregon (Portland).