Poloz Downplays Inflationary Risk of Bank of Canada Stimulus
(Bloomberg) -- Bank of Canada Governor Stephen Poloz dismissed the possibility his emergency measures could trigger an inflationary spike, providing assurances the central bank's balance sheet expansion will reverse once the economy improves and financial markets return to normal.
Policy makers were compelled to respond aggressively to the crisis in order to avoid a credit crunch and counter a deflationary shock in the economy, Poloz said, according to the text of remarks he gave by video conference to students at Western University's Ivey Business School. That makes the injection of cash into the economy, which would be inflationary in normal circumstances, simply a stabilizing force.
"Crisis conditions argue for vigorous, even outsized, responses because maintaining confidence is critical to the recovery," said Poloz, who's due to step down in June after serving a seven-year term. "Gradualism is unlikely to succeed."
With Canada's economy suffering its sharpest contraction since the Great Depression, Poloz has taken the Bank of Canada into uncharted waters -- cutting the benchmark rate to near zero, injecting C$260 billion ($186 billion) of cash into financial markets and undertaking the first-ever foray into large purchases of government debt. That's raised some concern the steps could be inflationary once the economy rebounds.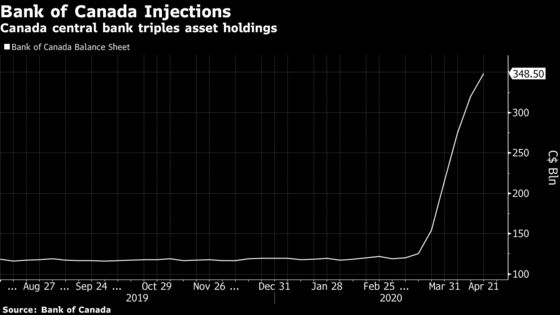 Poloz said that monetary policy will remain accommodative even when the containment efforts are removed, to "lay the foundation for the subsequent recovery," and expressed confidence the nation won't exhibit underlying conditions usually associated with recessions, likening the current situation more to a natural disaster.
Things will eventually return to normal, possibly quickly because of historic levels of fiscal support, and that will eventually ease demand for central bank liquidity, he said.
"When the recovery begins and tensions ease, people will put their money back into financial assets or pay down their lines of credit," said Poloz. "At that point, the process goes into reverse, and the central bank's balance sheet can return to a more normal level."
"This process contrasts with 'printing money,' which means expanding the bank's balance sheet permanently and forcing newly created money out into the system," he said. The London, Ontario school is his alma mater.
Regardless, officials will remain vigilant to any potential inflationary risks, guided by the central bank's 2% target.
"If we were to misjudge the balance of deflationary and inflationary forces during the recovery, the economy could pick up too much steam and inflation could rise," he said. "We are alert to this risk and have the tools to respond should it materialize. But at present we see the risk of disinflation as more immediate."
Poloz also sought to address the rising financial vulnerabilities that could emerge from all the new borrowing, saying it will be something the central bank gives greater weight to once the economy returns to normal.
"We have not forgotten about financial vulnerabilities -- we will put more weight on them in our risk management framework once we are confident that our primary objective will be met," he said.