Polish Inflation Surges Even Before Virus Curbs Are Eased
(Bloomberg) -- Discover what's driving the global economy and what it means for policy makers, businesses, investors and you with The New Economy Daily. Sign up here
Polish inflation overshot the official target range for the first time in more than a year, challenging the central bank's pledge to maintain record-low interest rates into 2022.
The scale of the jump surprised even the most pessimistic forecasters and came before pandemic restrictions that have held prices back are eased next month. Separately, a central bank survey of companies showed a "significant" rise in inflation expectations alongside wage pressures near the levels seen shortly before the pandemic.
Consumer-price growth accelerated to 4.3% from a year earlier in April, mainly due to surging global fuel costs, preliminary data Friday showed. The highest estimate in a Bloomberg survey was for a 4.2% increase.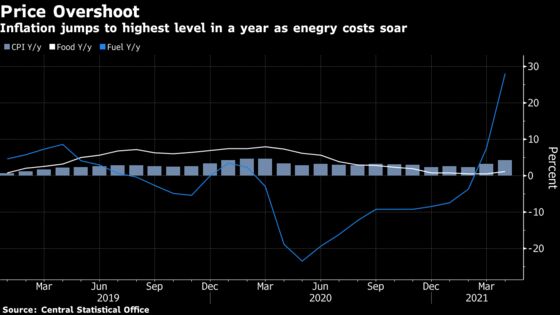 Most Polish central bankers have argued the flare-up is driven by factors outside their control and that monetary-policy tightening could derail the economic recovery.
Governor Adam Glapinski has repeatedly said inflation will gradually slow toward the 2.5% mid-point of the tolerance range, allowing benchmark borrowing costs to stay at 0.1% until early 2022. The next policy meeting is Wednesday.
While most economists predict the first interest-rate hike coming in late 2022, some on Friday flagged the possibility an earlier move:
The Monetary Policy Council may have to act if prices continue rising at the current pace or more quickly, said Monika Kurtek, an economist at Bank Pocztowy SA in Warsaw
"The argument that Poland can mimic the easy stance of central banks in more developed countries is looking increasingly debatable," Rafal Benecki and Dawid Pachucki, economists at ING Bank Slaski SA in Warsaw said in a report to clients. "Demand pressure will only grow once the economy reopens"
MBank SA economists say lockdown easing may drive inflation close to 5% toward year-end
Poland isn't the only eastern European Union member grappling with surging prices: The Czechs are already gearing up to start raising rates in the second half of this year.
But investors are starting to react. Yields on the Polish government's 10-year notes hit their highest level since March 2020 on Thursday, despite the central bank buying 3 billion zloty ($800 million) of the bond via its quantitative-easing program.
Read more
Reflation Means Fading Risk of Cut in Near-Zero Polish Rate
Polish Inflation May Spiral Out of Control: Ex-Governor Belka