Fastest Inflation Since 2001 Pressures Polish Rate Doves
(Bloomberg) -- Supply Lines is a daily newsletter that tracks trade and supply chains disrupted by the pandemic. Sign up here.
Polish inflation surged to its highest level in two decades, piling pressure on policy makers to ditch their dovish views and increase interest rates in the coming months. 
Consumer prices rose 5.4% from a year earlier in August, after a 5% increase in July, according to preliminary data released Tuesday. That exceeded the 5.1% median estimate in a Bloomberg survey.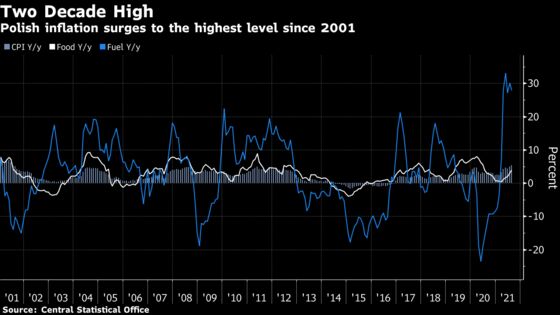 The zloty jumped half a percentage point against the euro as economists said inflation hasn't yet peaked, testing National Bank of Poland's resolve to continue to keep its benchmark at a record low of 0.1% at a time its peers in Hungary and the Czech Republic are tightening policy. 
"The next inflation forecast of the central bank will have to be revised upwards," said Monika Kurtek, the chief economist at Bank Pocztowy. "The likelihood of an interest rate hike, already this year, is growing."
The Monetary Policy Council rejected motions for 15 basis-point hikes in both June and July, saying inflation was being driven by the reopening of the economy after the worst of the pandemic and that price-growth triggers were beyond control of monetary policy. A majority of board members expects price growth to ease to around 3.5%, the upper end of their target range, next year.
The zloty gained on the rate-hike speculation, at one point trading at 4.5311 against the euro, the strongest level since July 15.
"I have urged a gradual and delicate rate increase for a while, warning about the growing risk of inflationary pressure coming not only from supply factors, but also demand-driven," MPC member Eugeniusz Gatnar told Biznes TV. "I have to say I didn't expect inflation at the current level of 5.4%."
Fellow MPC panelist Jerzy Zyzynski told PAP agency that he expects borrowing costs to stay unchanged until the end of 2021.
August's flash inflation, driven by higher gas news tariffs and increased fuel prices, raised this year's CPI path to above 5%, Mbank economists said. The central bank's last inflation projection saw inflation at an average of 4.2% this year.
Uncertainty about the future course of the pandemic and its impact on the economy supports keeping the benchmark rate steady, according to the minutes from the MPC's last meeting in July
Governor Adam Glapinski has ruled out raising rates unless strong and persistent economic growth is coupled with excessive demand-driven inflation. Before considering any action, the majority of the MPC wants to see inflation and GDP forecasts due in November.