Polish Deaths Mount as Covid-19 Strains Health Care System
(Bloomberg) -- Even as growth in Covid-19 cases in Poland appear to be slowing from a record pace, an unprecedented jump in deaths last month signals how deeply the pandemic is affecting the east European country.
Deaths in the country of 38 million last month amounted to 49,132, about 40% higher than on average in past years and the first such spike during the pandemic. While the country reported 3,118 Covid-19 deaths in October, less than 7% of the total number of deceased, the virus played a much bigger role.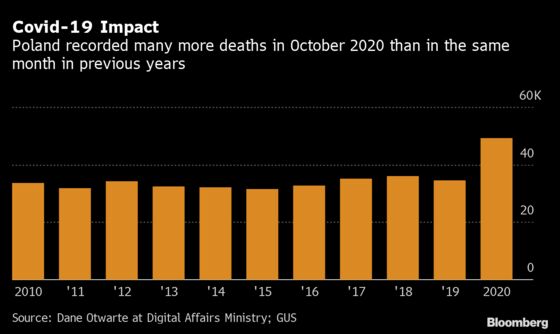 "Covid is reaping what it has sown, even if the deaths are not directly related to the virus," Health Minister Adam Niedzielski said, when asked about the data. Some people may be afraid to visit doctors for fear of being swept up in the pandemic, he said.
In an email to Bloomberg News today, his ministry said that it's still analyzing the data, adding that people over 65 accounted for 92% of all the excessive deaths in recent weeks.
As is the case across Europe, hospitals are increasingly focusing only on treating coronavirus patients, which leads to delays in other procedures. As of Wednesday, 21,899 Covid beds were occupied, about two-thirds of total capacity.
Poland's spike in new infections peaked last week at nearly 30,000 cases a day. New cases dropped to 22,632 on Wednesday, below a level the government said would trigger a "national quarantine" or full lockdown.