Poland Keeps Rates Unchanged as Stimulus Kills Easing Buzz
(Bloomberg) -- Want the lowdown on European markets? In your inbox before the open, every day. Sign up here.
Poland extended its record pause in interest rates and indicated that borrowing costs may remain unchanged in the foreseeable future, muting talk of a looming cut or increase.
A benign inflationary environment and a dovish monetary outlook worldwide prompted comments last month from central bank Governor Adam Glapinski on the need to eventually lower rates. But those plans look to have been scuppered by a surprise fiscal-stimulus package from the government that has some analysts discussing a hike.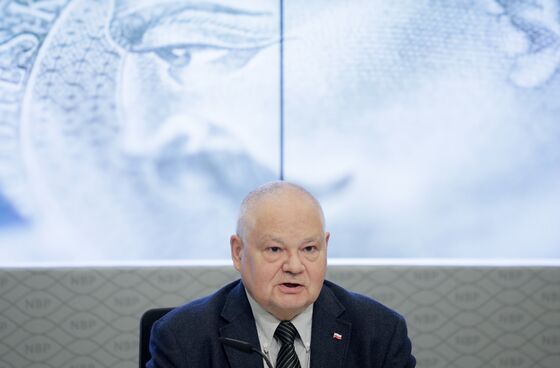 The bank left its benchmark rate at a record-low 1.5 percent on Wednesday, as predicted by all economists surveyed by Bloomberg. Following the decision, Glapinski reaffirmed a pledge to keep borrowing costs on hold for as long as two years more, regardless of the government election-year splurge.
"The fiscal package has no impact on the interest-rate path," Glapinski said in Warsaw. "For individual MPC members, and since the package amounts to a strong stimulus, it may be regarded as having some effect at the end of their term."
This week marks four years since Poland last touched interest rates and discussions had switched to the possibility of a cut, should fears of steeper slowdown in the global economy materialize. But the government's largess has altered the picture. Rate-setters like Lukasz Hardt and Eugeniusz Gatnar, members of a hawkish minority on the Monetary Policy Council, have said a hike may need to be considered if the fiscal boost fuels inflation.
Markets, too, have reacted.
The zloty produced its best weekly performance since July, hitting a one-month high against the euro after plans emerged to spend as much as 40 billion zloty ($10.5 billion) on increasing pensions and expanding family subsidies
Forward-rate agreements for the next year have rebounded from less than zero to price in a small chance of a rate increase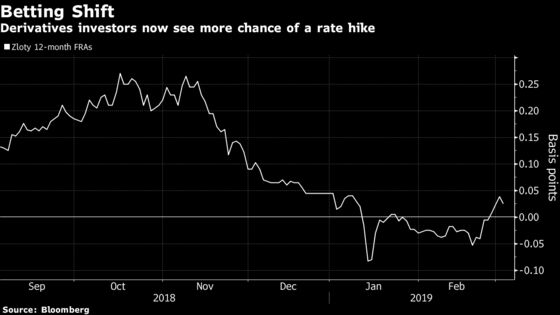 Higher spending may hand the European Union's largest eastern economy a welcome lift. While still benefiting from record-low unemployment, the fastest wage growth in a decade and increased handouts for families, a wobble in the euro area's recovery has dented Polish manufacturing and confidence. Analysts see gross domestic product rising more moderately this year.
But inflation, which has undershot forecasts for three years, reached a more-than-two-year low in January. The central bank said on Wednesday that inflation would be slower than previously thought this year and next, while economic growth would be higher.
"The CPI path confirms that the price increase won't be an argument for interest-rate changes until the end of 2020," said Piotr Poplawski, a Warsaw-based senior economist at ING Bank Slaski SA. "Both MPC rhetoric and the projections presented by the bank confirm that interest rates in Poland will remain stable at least until the end of 2020."