Poland Hikes Rates Above Pre-Covid Levels and Signals More
Poland raised borrowing costs and paved the way for more increases, cementing an about-face at the central bank after it faced criticism for being too slow to confront spiraling inflation.
The Monetary Policy Council hiked the benchmark interest rate by 50 basis points on Wednesday to 1.75% -- a quarter-point higher than it was before the pandemic. The third consecutive monthly increase came just days after Governor Adam Glapinski said he had changed his mind and no longer sees the acceleration in price growth as transitory.
Decisions "in the coming months will continue to be aimed at reducing inflation to a level consistent with the National Bank of Poland's inflation target in the medium term," the MPC said in a statement.
Polish inflation hit a two-decade high of 7.7% in November, more than three times the central bank's medium-term goal of 2.5%. The scale of future tightening will depend on new inflation and and economic growth data, including the situation on the labor market, the central bank said.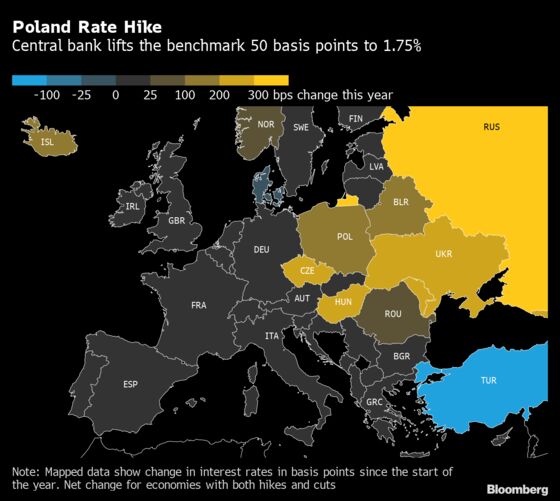 The zloty weakened after the decision and traded 0.7% lower at 4.6148 per euro at 5:47 p.m. in Warsaw, as traders wanted faster tightening to extend one of the best runs among emerging market currencies. Warsaw-listed banks also declined in the wake of the announcement, which followed two steeper-than-expected hikes.
Glapinski, who has resisted calls for most of this year to follow the nearby Czech Republic and Hungary in tightening monetary policy, unexpectedly began lifting rates in October as inflation became into a hot-button political issue.  
The government also adopted a package of temporary measures last week designed to tame inflation and compensate poorer Poles for rising fuel and energy prices. It has encouraged the central bank to continue raising rates, while the leader of the main opposition party, Donald Tusk, has slammed Glapinski for being to slow to tame rising costs.
The ability to restrain prices may determine whether the governor is able to win the ruling party's endorsement to stay on for a second, six-year term.
Glapinski, whose current tenure ends in June 2022, expects inflation to peak in December and said he won't sacrifice Poland's record-low unemployment by raising rates too aggressively. He'll hold a news conference at 3 p.m. in Warsaw on Thursday.
The concern right now is over the persistent pandemic and its potential to undercut economic growth, a main factor in the central bank's reluctance to tighten policy earlier. The government has re-imposed some social-distancing restrictions but has forgone a stricter lockdown like that embraced by fellow European Union member Austria.
"This is unlikely to be the end of the tightening cycle," said Jakub Rybacki, an economist at the Polish Economic Institute. "We're expecting interests rates to rise to at least 3% by the end of 2022 -- real interest rates are still low compared to the rest of the European Union."