Poland Is Financially Braced for a Hard Brexit, Minister Says
(Bloomberg) -- Poland is ready for Brexit, whether it happens with or without an agreement with the European Union, its finance minister said.
The eastern European nation is vulnerable to a disorderly departure as about a million Poles reside in Britain and the country is the biggest net beneficiary of the EU budget, which may be diluted. The Polish government set aside a 1.05 billion-zloty ($278 million) buffer in its 2019 fiscal plan in case a no-deal divorce hits the bloc's multi-year budget, Finance Minister Teresa Czerwinska said.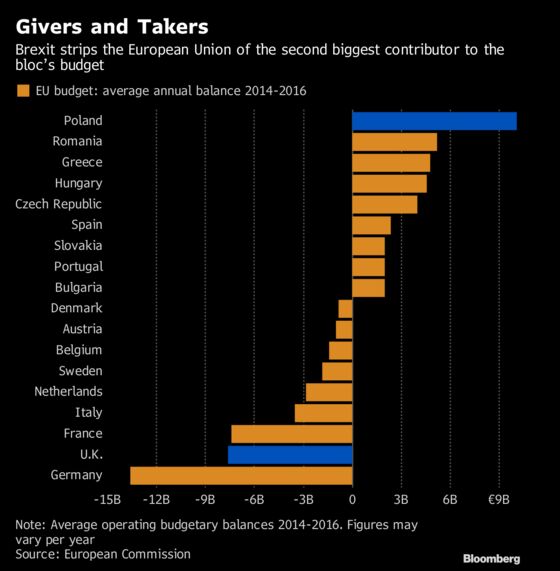 "Our budget is ready for an orderly as well as a no-deal Brexit," she told Bloomberg in an interview. There aren't any "serious risks" for Poland's $525 billion economy even in the case of a disorderly Brexit, which Czerwinska hopes won't happen.
The terms on which the U.K. will leave the EU aren't clear two months before it's set to depart after parliament rejected the exit deal negotiated by Prime Minister Theresa May. While the Polish and British governments have repeatedly said that regardless of how the divorce pans out, their citizens and businesses will hang on to acquired rights in each other's countries, details may prove difficult to manage. The two countries trade goods and services worth more than $20 billion a year.
Poland is also eager to participate in plugging a potential 10 billion-euro ($11.4 billion) capital shortfall at the European Investment Bank, the EU's development lender, after the U.K.'s exit. The EIB loaned 5.4 billion euro to projects in Poland in 2017, according to its website.
"There is a chance to strengthen our role in the EIB," she said. There's a "constructive attitude" among national governors to Polish plans to step up participation, according to the minister.
While Poland's budget deficit was below-target in past years, the same scenario isn't likely in 2019 as the economy slows and requires more stimulus, Czerwinska said. Gross domestic product, which has been expanding at about 5 percent for nearly two years, is set to slow to 3.8 percent this year, according to government forecasts.
This year's budget shortfall is set at 28.5 billion zloty, compared with "well below" 15 billion zloty last year. After years of robust growth, Poland has exhausted the reserves in its labor market, with unemployment near historic lows and wages showing a "natural" uptick, she said. To fuel further expansion in this election year, as well as rejuvenate investment, Poland wants to reduce the tax burden, according to Czerwinska.
An analysis of stimulus measures will be ready within weeks and it isn't likely to trigger a revision in this year's budget deficit, she said.