Poland and Hungary Stick to Their Veto on EU Stimulus Funds
(Bloomberg) -- European Union leaders made no progress in bridging their divisions over a giant stimulus package on Thursday, casting doubt over the timely disbursement of much-needed funds for the bloc's battered economies.
During a brief debate over a videolink, the prime ministers of Hungary and Poland reiterated their objections to tying the disbursement of aid to upholding democratic standards, according to two people familiar with the discussion. European Council President, Charles Michel, who chaired the meeting, promised to work toward a compromise, without elaborating on specifics.
"This clearly doesn't belong to the easy problems which have to be solved," German Chancellor Angela Merkel said after the meeting while she declined to speculate on what a possible compromise could look like. "I can only say that we will work on it hard and seriously."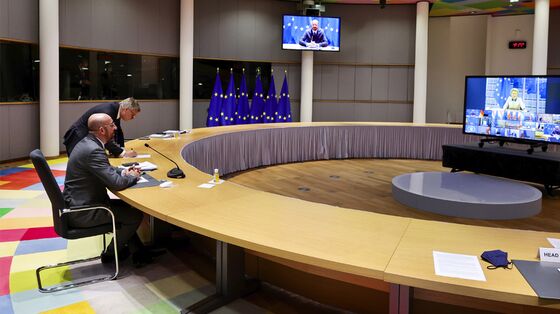 The effective veto by Warsaw and Budapest means that a $2 trillion stimulus agreed by EU leaders in July won't be up and running in the beginning of the year as planned. The delay may also lead the EU into a partial shutdown as of January, as some payments will be suspended in the absence of an agreed budget, while the dispute risks spilling over into other policy areas, such as climate.
European markets have so far shrugged off the uncertainty over whether a deal gets done. Bonds of Europe's heavily-indebted southern nations have continued to rally, with yields on Spanish and Portuguese debt hovering just above 0% and those on Italian securities close to a record low at 0.64%. The euro meanwhile is trading within a range at $1.1869.
One of the European officials said a video conference is not the right context for settling the complex issues holding back the agreement and that Michel had spoken to all member states ahead of the call to ensure there were no surprises.
During the discussion, Polish premier Mateusz Morawiecki told his peers that conditioning disbursements from the bloc's budget and economic recovery fund to rule-of-law conditions is not in line with EU treaties, the officials familiar with the discussion said. Merkel, whose country holds the rotating presidency of the EU, said that she hopes to be in a position to deliver better news next time leaders meet.
Most leaders didn't even take the floor to discuss the deadlock, and the discussion quickly moved to the unfolding health emergency which has forced most nations in the continent into new lockdowns.
Speaking in a radio interview on Friday, Hungary's Prime Minister Viktor Orban said a deal will eventually be possible and is only a matter of political will.