Yum Brands Falls on Lagging Pizza Hut, Coronavirus Headwinds
(Bloomberg) -- Yum! Brands Inc. fell after its Pizza Hut chain weighed on fourth quarter results and the company said the virus outbreak in China will be a headwind this year.
Pizza Hut's same-stores sales, a key measure for retailers, dropped by a more-than-estimated 2% in the fourth quarter, according to a statement. Yum Brands Chief Executive Officer David Gibbs said that the deadly coronavirus may impact the company -- which still generates revenue from Asia --and that it was closely monitoring the situation.
The drop in Pizza Hut's sales is a sign its lagging turnaround continues amid fierce U.S. delivery competition from chains quickly adding the service such as Chipotle Mexican Grill Inc. and even Starbucks Corp. Yum joins companies including Capri Holdings and Estee Lauder in outlining expectations that the virus will dampen 2020 results.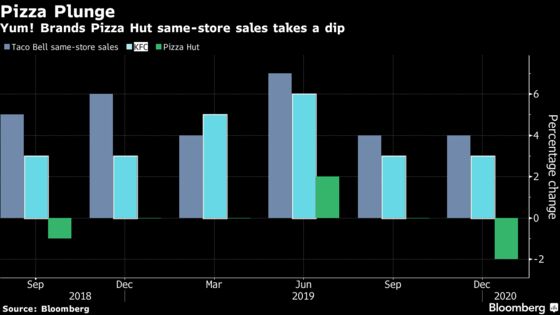 Yum China Holdings Inc., a separate company that operates in China, earlier reported a disappointing quarter for Pizza Hut, and said the coronavirus will materially affect its sales this year. Yum China has shut down most KFC and Pizza Hut stores in Hubei Province, the center of the deadly outbreak. Gibbs said he had been in contact with Yum China CEO Joey Wat regarding the situation.
Still, Yum's Taco Bell brand had a solid performance. In addition to capitalizing on delivery and digital options including self-order kiosks, the brand had success with some new menu items and through discounting. That's helping Taco Bell attract customers in the highly competitive fast-food environment with comparable sales gaining 4% in the fourth quarter, better than the 3.1% estimate from Consensus Metrix.
Yum shares fell as much as 4.9% in New York Thursday. Through Wednesday's close, they had gained 13% in the past 12 months, while the S&P 500 Index jumped 22%.