Pimco's Contrarian Stance on Steeper Yield Curve Faces Fed Risk
(Bloomberg) -- Yield-curve flattening -- the dominant trend in the U.S. Treasury market for the past two years -- is at a critical juncture. Wagers that it's over have begun to emerge, but they may be upended by this week's Federal Reserve meeting.
The gap between short- and long-dated yields has widened slightly from 11-year lows, fueled by Fed rate increases, benign inflation and global demand for duration. Pacific Investment Management Co., NatWest Markets Plc and Wells Fargo & Co. are among the non-consensus voices who say the outlook for inflation and Treasury supply calls for a steeper curve.
"It's exceptionally flat," said Mark Kiesel, global credit portfolio manager at bond investing giant Pimco. "The curve rarely ever inverts, so we just do not think given the risks of slightly higher inflation that you're getting paid to own long-maturity bonds.''
That's at odds with the expectations of banks including Bank of America Corp., Barclays Bank Plc, JPMorgan Chase & Co., Morgan Stanley and Toronto-Dominion Bank. All of these expect curve flattening to resume, led by the Fed and aided by pension fund demand for bonds as U.S. equities attain record highs.
"Concerns about worsening supply-demand dynamics at the long end of the US Treasury curve are overstated," Barclays strategists said in a Sept. 20 note.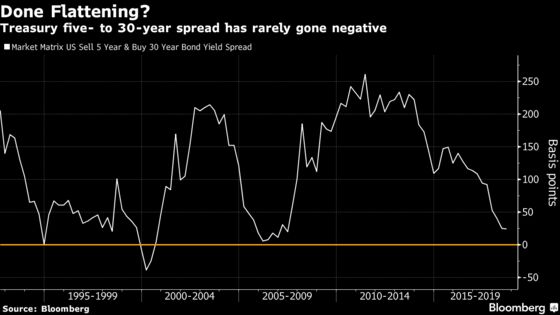 The curve's path is critical for investors in the $15 trillion Treasury market. Inversion is widely considered a reliable precursor to recession -- a risk-off environment that tends to favor bonds. Investors who see long-end yields rising want to time their trade carefully, to get the full benefit of the trend reversal.
Pimco is positioned for steepening in the five- to 30-year sector, which has risen roughly 6 basis points from its July low, to 24.4 basis points. Kiesel said the position has been on for the past three months, and his conviction has only grown. This year's roughly 80-basis-point increase in the five-year yield has made this sector more attractive, and Pimco has moved from underweight to neutral.
"The impending end of the U.S. rate-hike cycle" also supports a steepening view, Pimco said in its Cyclical Outlook, published Tuesday. But the big factor yet to be fully appreciated is impending supply, Kiesel said.
"It's not inconceivable that in the next two-to-three years we could be running 6 percent budget deficits," Kiesel said. "Every one percent increase in the deficit is an incremental financing need of $200 billion, so you're talking about a Treasuries market which in our view hasn't necessarily priced in all this incremental supply."
Moreover, the latest escalation in U.S. President Trump's trade war with China has also worked surprisingly in favor of the steepener. Earlier threats to expand or increase tariffs flattened the curve based on concerns about a negative impact on growth. Last week, even as the U.S. and China respectively imposed tariffs on a broader range of goods, the 30-year yield rose to test 3.25 percent. The move corrected an overreaction, according to NatWest Markets, which also backs the five- to 30-year steepener.
Strategists led by John Briggs cited a reassuringly stable Chinese yuan and relief that the initial tariff rates announced last week were at the low end of expectations. Escalation is no longer a near-term risk, and the next phase has been put off until January, they said.
Wednesday's Fed meeting could call time on these dynamics, however. The market has already gravitated more toward the Fed's projections, pricing in a September and now a December hike, and another two in 2019. If policy makers reaffirm their projection for three increases next year, many market watchers expect a selloff in the short end to drive the curve flatter still.
At Wells Fargo, rates strategist Boris Rjavinski says rates markets have already largely adjusted to this trajectory, and investors will soon shift focus to factor in the prospect of increased supply across the curve. He sees the five- to 30-year spread finishing the year around 35 basis points. And in the unlikely scenario that the Fed revises its rate-hike projections lower, the curve should steepen as markets start to contemplate the end of the U.S. tightening cycle.
"The market is already pricing in a path for the Fed to hike at least three times and possibly more in the next 12 months," he said "How much more would the curve need to flatten beyond that?"