Pimco's $111 Billion Fund Goes From Darling to Dud in Brazil
(Bloomberg) -- The $58.7 billion Pimco GIS Income Fund was a hit with Brazilian investors last year. Now, they're pulling money out almost as quickly.
Outflows totaled 3.6 billion reais ($927 million) in the first 10 months of 2018, compared with inflows of 8 billion reais for all of 2017, according to data compiled by Bloomberg for the Pimco Income FIM IE fund, which invests almost all of its assets in the main Pimco fund. The reversal left the Brazilian fund with less than half the assets it had at its peak in February.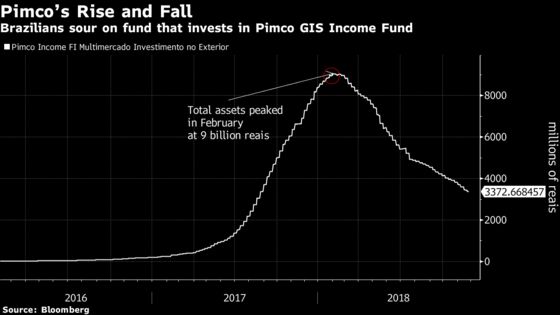 The culprit isn't hard to pinpoint: The Brazil fund's total return this year tumbled to 2.44 percent, less than half what an investor would get by betting on Brazil's benchmark rate for fixed-income investments, known as CDI. Just one year earlier, the fund outperformed the Brazilian benchmark by about 50 percent and, for the last year, its parent fund has done better than 98 percent of its peers.
Started in February 2016, Pimco's local feeder fund catered to Brazilians willing to invest overseas to escape ups-and-downs created by the nation's string of political scandals. It also helped that brokerage firms, including XP Investimentos SA, started selling Pimco funds to Brazil's middle class -- giving it a market it never reached before in Latin America's biggest nation.
The fund "offers a diversified approach to global fixed-income investing that can bring greater balance to investor portfolios, especially those that have significant exposure to single markets," Pimco said in an email. The fund had a 41 percent total return since 2016 "while maintaining a low correlation with Brazilian markets," Pimco said.
Interest rates at an all-time low in Brazil have boosted the nation's asset-management industry, which attracted a record amount last year and almost 90 billion reais in 2018 through Nov. 16, according to Anbima, the nation's capital-market association.