Pimco Guru Calls a Turning Point for Bond-Market Returns in 2019
(Bloomberg) -- Pimco's Tony Crescenzi says Goldilocks-type growth and an accommodative Federal Reserve will revive bond returns next year after a tumultuous 2018.
"Next year could be a lot different," Crescenzi, who sits on Pimco's Investment Committee, said in an interview with Bloomberg TV. "If one believes that the expansions will be ongoing, and secondly that interest rates will be topping out -- we tend to believe that -- yields, returns will probably be decent across the fixed-income spectrum."
The asset class is now well positioned as the global economy stays on an even keel while the Fed possibly pauses rate hikes -- maybe as soon as March -- allowing investors to generate returns without much effort, Crescenzi said.
Pimco forecasts growth in the U.S. will slow to 2 to 2.5 percent while global output ebbs to about 3 percent.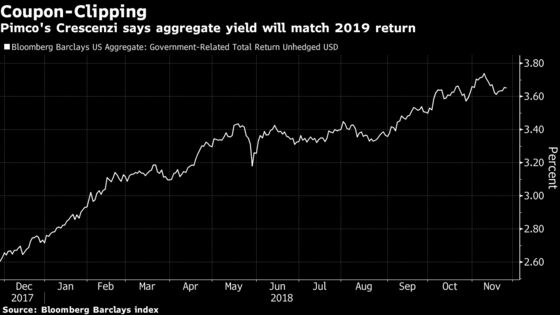 "That could be the return next year, and with a little effort, even higher, not bad for a diversifier," he said. "Next year could be a coupon-clipping year."
The New York-based investor is sounding a rare note of optimism following a year that saw almost every asset class plunge into the red and the hedging credentials of bonds sullied. As stock volatility rose in October, investors pulled a net $14.2 billion from taxable bond funds, the worst month since December 2015, Morningstar Inc. estimated.
That doesn't mean money managers should embrace yield-chasing habits that overlooked credit quality and liquidity gaps, he said.
"One should move up in credit quality, up in cash, and up in the capital structure to avoid pitfalls," Crescenzi said. "Continue to expect an illiquidity premium; focus on risk factors, not simply beta -- that game is over."