Pimco Is Buying Up Brazilian Bonds With Bolsonaro Eyeing Presidential Win
(Bloomberg) -- Brazilian presidential hopeful Jair Bolsonaro's political rise is bolstering the confidence of one of the world's largest bond investors.
Pacific Investment Management Co. boosted its holdings of Brazil's international debt by 172 percent over the past few months, data compiled by Bloomberg show. That coincides with the far-right candidate's climb from a relatively obscure lawmaker promoting a tough-on-crime stance to the frontrunner in the Oct. 28 runoff to lead Latin America's largest economy.
Bulls such as Pimco have sent Brazilian assets soaring in recent weeks, encouraged by Bolsonaro's pledge to dig Brazil out of its worst-ever economic crisis with a pro-business agenda crafted by University of Chicago alum Paulo Guedes and supported by his allies in Congress. The platform includes an overhaul of the nation's pension system to save money, a pledge to cut taxes and potential privatizations of large state-run companies.
"The market has moved quickly to price in a positive scenario," said Gene Frieda, a global strategist at Pimco in London. "The better-than-expected performance of his party in the congressional elections increase the odds that he can put together a coalition willing to pass key reforms."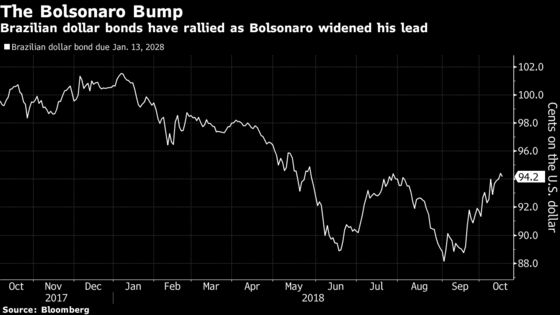 Brazilian bonds have returned 5.5 percent since Bolsonaro started climbing in polls in early September, more than five times the average for emerging markets, according to a Bloomberg Barclays index. Brazil's notes had lost investors 7.9 percent in the first eight months of the year, worse than average for developing-nation sovereigns.
Not all investors are expressing confidence in Bolsonaro, who holds a double-digit lead over his leftist opponent Fernando Haddad with less than two weeks until the final-round vote. Firms from Goldman Sachs Group Inc. to BlackRock Inc. have trimmed their holdings of the nation's dollar bonds, according to filings compiled by Bloomberg that capture 23 percent of debt outstanding. Even Pimco's Frieda has doubts.
"The same old questions apply: How committed is he really to the liberal agenda of his prospective finance minister?" he said. "And how skillful will he and his coalition be in steering the reforms through Congress?"
Sam Finkelstein, the co-chief investment officer of Goldman Sachs Asset Management's $800 billion fixed-income group, said even though Bolsonaro appears genuine about his desire to push through economic overhauls, it won't be an easy task. If his economic team were to change -- there have been hints that Bolsonaro and Guedes don't always see eye to eye -- that would be a major disruption.
"Markets have been under pressure for some time," he said. "There are positive opportunities if the next administration supports reforms."
BlackRock declined to comment on how the election impacted its holdings.
While Bolsonaro's economic strategy is lacking in detail and hinges on Guedes, Brazilian assets could rally in the coming months if he's able to avoid answering questions about specific plans, according to Monica de Bolle, the head of Latin American and Emerging Market studies at the Johns Hopkins University School of Advanced International Studies.
"His best strategy is to not say anything and let markets fantasize," she said.