Piccadilly Circus Billboards Point to Brightening London Economy
(Bloomberg) -- Sales of advertising space on the giant digital hoardings in London's Piccadilly Circus are providing the latest evidence of a strengthening economy.
Billboard advertiser Ocean Outdoor Ltd. was hit hard when lockdowns emptied the capital's streets, dragging sales down 17% last year. Now it's reporting growing occupancy rates and forward selling prices back at 2019 levels at some prestigious sites like the landmark junction in the British capital.
"We are already starting to see the early signs of a very, very positive recovery," Chief Executive Officer Tim Bleakley said in an interview after a trading update.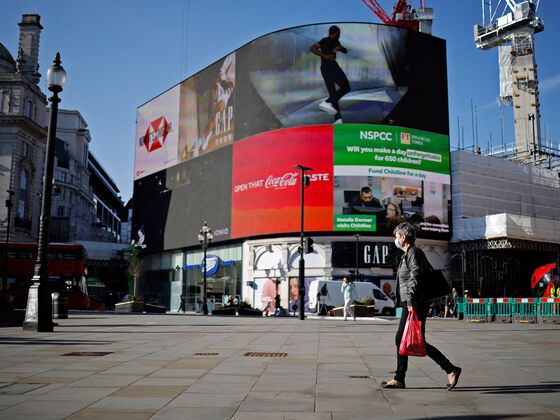 The amount of ad space sold by Ocean Outdoor began to rise in April and both volume and prices are expected to accelerate during the second half of the year, the company said.
There's still no certainty on when the usual crowds of tourists and office workers will return, so the timing of a full recovery is unclear. Ad agency GroupM said in December it expects only a partial, 18% rebound in global outdoor ad revenue after a 31% slump in 2020.