Philippines to Sustain Prolonged Rate Pause: Decision Guide
The Philippine central bank is expected to keep its benchmark interest rate on hold for a fifth straight meeting to support a fragile economic recovery as inflation steadies.
All 20 analysts surveyed by Bloomberg forecast Bangko Sentral ng Pilipinas to hold its key interest rate at 2% on Thursday, with some expecting the interest-rate pause to extend to next year.
"The bank's focus remains on supporting growth," said Shreya Sodhani, a regional economist at Barclays Plc in Singapore. While inflation remains above the central bank's 2%-4% target range, "policy normalization is unlikely for now," she said, forecasting interest rates to increase "late next year."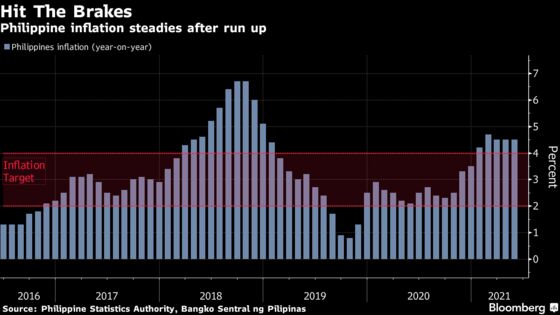 Governor Benjamin Diokno said this month the central bank will keep monetary policy accommodative "as long as necessary," a pledge that withstood a price run-up earlier this year. Elevated numbers of Covid-19 infections are still throttling business activity, bolstering views that the Philippines will be among the slowest economies in Asia to recover from the pandemic.
"We expect BSP to keep rates on hold through 2021 and 2022, on a moderation in inflation combined with still-soft growth and subdued sentiment," said Chidu Narayanan, Asia economist at Standard Chartered Plc in Singapore.
Here's what to watch for in Thursday's announcement:
Given its focus on spurring growth, the central bank's economic outlook remains a key barometer for the duration of pandemic-era measures. Analysts also will be seeking clues to how the pace of U.S. policy normalization could affect the Philippines' interest-rate path.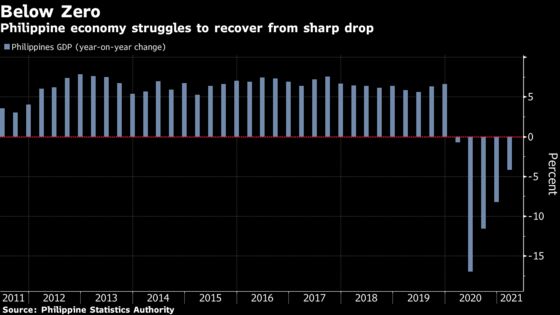 The Philippine central bank will have to "eventually ease off on the gas -- lessen liquidity support," said Nicholas Mapa, a senior economist at ING Groep NV in Manila who expects the key rate to remain steady until at least June 2022. "But this too will hinge on the state of the Philippine economy."
Real gross domestic product is projected to return to its 2019 level by the third quarter of next year, according to the minutes of the central bank's May rate-setting meeting.
While consumer-price increases remain manageable, Diokno said last week that policy makers will ensure that the monetary stance will support the economy only to the extent that the inflation outlook allows.
What Bloomberg Economics Says...

"Easing inflation pressures should give BSP more breathing room to keep policy loose. Though inflation remained above its 2%-4% target range for a fifth straight month in May, it is set to slow in the coming months on fading base effects and still-significant economic slack."

-- Justin Jimenez, Asia Economist
Inflation has plateaued in the second quarter after lockdowns hurt demand, and will ease in the second half, said StanChart's Narayanan. The central bank is expected to announce updated consumer-price forecasts Thursday.
The central bank has been at the forefront of economic support. Its liquidity-enhancing measures -- from lowering reserve requirement ratios to buying government bonds in the secondary market -- totaled about 12% of GDP as of early June.
Analysts are keen for clues to whether the central bank will further support the state budget. The government's 540-billion peso ($11.1 billion) no-interest loan from the central bank, which was extended in April, is due July 12.
Finance Secretary Carlos Dominguez, who sits on the central bank's Monetary Board, said in April the government aims to wind down its loans from the central bank later this year or early next.