Philippines to Hold Rate Amid Weak Recovery: Decision Guide
(Bloomberg) -- The Philippines will likely leave its key interest rate unchanged at a record low Wednesday as its economy struggles to gain momentum.
Bangko Sentral ng Pilipinas will hold its benchmark rate at 2% for a fourth straight meeting, according to 20 of 21 economists surveyed by Bloomberg. One predicted a 25 basis point cut.
Optimism for a fast recovery has faded since the Monetary Board last met on rates in March. The Philippine economy shrank by a larger-than-expected 4.2% in the first quarter, cementing views that it will be among the slowest economies in Asia to rebound from the pandemic. Recent curbs to contain a surge in infections are likely to weigh further on growth.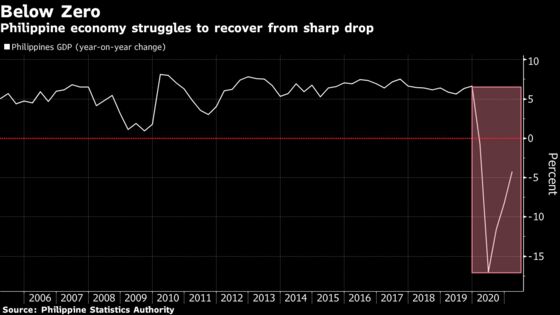 "We expect the BSP to keep the policy rate unchanged" to help households and small businesses hit by the pandemic, said Angela Hsieh, economist at Barclays Bank Plc in Singapore. "Lingering inflation concerns and negative real rates also suggest there is limited scope for BSP to inject more support."
Here's what to watch for in Wednesday's announcement:
Central bank Governor Benjamin Diokno has pledged to keep policy loose until there are more signs of a stable recovery. Statements on the economic outlook could be a barometer for the duration and extent of the bank's support measures.
What Bloomberg Economics Says...

"The central bank remains focused on supporting the recovery -- which has taken an additional hit from a renewed surge in infections and tighter anti-virus restrictions."

Justin Jimenez, Asia Economist

Click here to read the full note
"Governor Diokno has signaled his preference to keep monetary support for as long as the economy is in recovery mode, and we continue to price in a steady policy rate for the balance of 2021," said Nicholas Mapa, economist at ING Groep NV in Manila.

With the central bank willing to look past inflation that's running above its 2%-4% target, any slowdown in the pace of price gains could potentially open the door to more easing. The bank will provide updated inflation forecasts Wednesday.
Already some analysts are starting to talk of further rate cuts, though a global spike in commodity prices that adds to inflationary pressures may take that option off the table.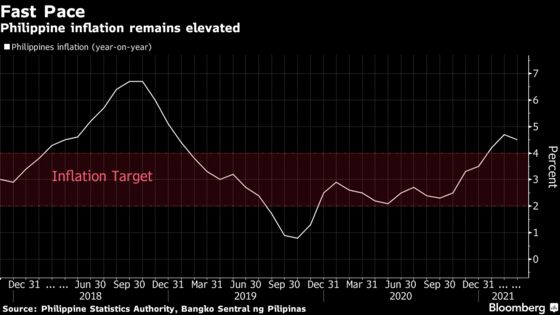 "While elevated inflation will probably prevent the BSP from acting at its meeting, it is still likely to cut later in the year if, as we expect, inflation falls back within target," said Alex Holmes, economist at Capital Economics Ltd.
Even if it stands pat on rates Wednesday, the central bank may reach deeper into its toolbox to support the economy. To boost anemic lending, it has counted loans extended to small firms, and to big companies facing financial strains, as part of banks' reserve requirements.
It also has extended budget support to the government and cut banks' reserve ratios, with Diokno saying another such reduction remains an option.