Philippines Says 8 Killed as Soldiers, Militants Clash in South
(Bloomberg) -- At least eight people were killed and more than a dozen injured when soldiers clashed with Islamic State-inspired militants in southern Philippine province of Sulu.
A heavy firefight started Saturday morning and lasted for nearly two hours between members of a scout ranger battalion and at least 150 members of the Abu Sayyaf group headed by Hatib Hajan Sawadjaan in Patikul town in Sulu, Colonel Gerry Besana, spokesman of the Western Mindanao Command, said in a text message.
The deadly clash in Sulu comes nearly a week after Jan. 27's deadly blasts that left 22 people dead in a Catholic church. Interior Secretary Eduardo Ano said Friday that two suicide bombers from Indonesia were behind last Sunday's explosions in Sulu that also injured about a hundred people, with the Abu Sayyaf acting as a guide. CNN Philippines also quoted Ano that there are still some foreign terrorists in the country.
The Philippine military this week launched an airstrike against a splinter group from the Abu Sayyaf that it believed led the attack. Defense Secretary Delfin Lorenzana earlier said a Yemeni couple may have been behind the blast. In nearby Maguindanao province, military operations have intensified in a terrorist lair, and bomber planes were used to destroy militants' bunkers.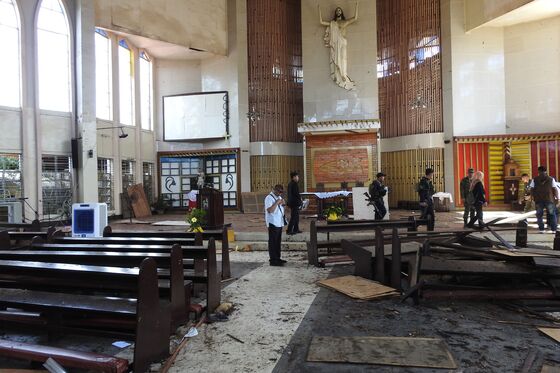 The bombings came days after voters endorsed a new autonomous region intended to end decades of violence in the impoverished Muslim-majority area. The Mindanao region, home to the provinces of Sulu and Maguindanao, is under martial law.