Peso Slumps as Philippines Makes Surprise Central Bank Pick
(Bloomberg) -- Philippines President Rodrigo Duterte surprised central bank watchers by naming his budget secretary on Monday as governor of the monetary authority. The peso slumped the most in more than five years.
Benjamin Diokno, 70, will succeed Nestor Espenilla, who died in February after a battle with cancer. The new Bangko Sentral ng Pilipinas governor will serve the remainder of his predecessor's six-year term ending in mid-2023.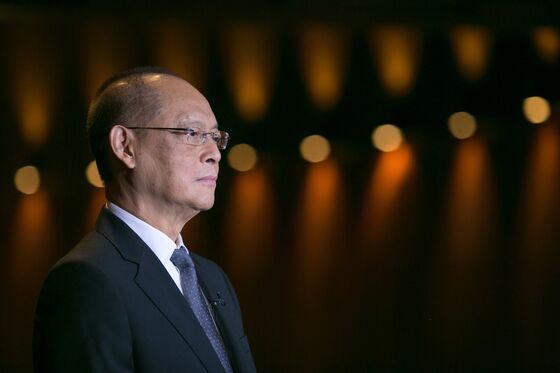 An advocate of robust state spending to spur growth when he was budget chief, Diokno is seen as favoring lower interest rates and a weaker currency. The peso was the worst performer of major Asian currencies on Tuesday, dropping 1 percent against the dollar, the biggest decline since August 2013.
Diokno, who hasn't officially taken office yet, said he'll focus on economic growth, inflation and the currency in his new role.
"The ultimate goal is sustainable growth under a regime of price stability," Diokno said in a mobile-phone response to a question. He declined to comment specifically on monetary policy.
Diokno's appointment and data on Tuesday showing inflation returned to the central bank's 2 percent to 4 percent target paves the way for rate cuts this year.
"He consistently communicated as budget secretary that his primary aim is to boost growth, keep the Philippines on a higher growth path and that high inflation is tolerable as long as the economy is growing," said Manny Cruz, head of research at Papa Securities Corp. in Manila. "He will probably lean towards an interest-rate cut."
Under Espenilla, the central bank raised interest rates by 175 basis points last year after inflation reached a nine-year high. Consumer price growth has steadily eased since then and reached 3.8 percent in February, lower than the 4 percent median estimate in a Bloomberg survey.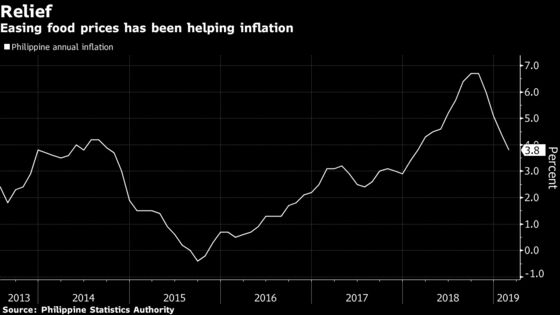 Deputy Governor Diwa Guinigundo has been more cautious on monetary policy despite the slowdown in inflation, saying on Tuesday that it's premature to talk about cutting interest rates or reducing the reserve ratio for banks.
The central bank -- which has kept the key rate unchanged at 4.75 percent at its last three meetings -- is set to hold its next policy decision on March 21. Economic growth slowed to a three-year low in 2018.
Diokno's "inclination will be towards policies that will support or enhance economic growth," said Alan Atienza, treasurer at the Philippine Bank of Communications in Manila. "We should see reserve and rate cuts this year that will support and fund government's ballooning budget deficit."
The peso fell 1 percent to 52.24 against the dollar at the close on Tuesday while the Philippine stock index erased earlier gains to end the day almost 0.1 percent lower.
Diokno's appointment was a surprise to central bank watchers, who had expected Duterte to name one of the three deputy governors, or possibly someone from the banking sector as governor.
An economics professor, Diokno was also budget secretary during the short term of President Joseph Estrada and undersecretary of that department during the time of then leader, Corazon Aquino. In recent months, Diokno has been mired in a dispute with lawmakers from the House of Representatives over their share in the budget, which has delayed the passage of the 2019 spending plan.
Diokno inherits a central bank with more capital, stronger powers and wider functions, including the ability to issue its own debt. His comments on the peso and his ability to uphold Bangko Sentral's independence will be closely watched.
Last year when he was still budget secretary, Diokno consistently brushed aside concerns about a weak peso when the currency was among the worst performers in the region.
"We note that past statements from Governor Diokno indicate his stance that a weak peso is not necessarily bad for the Philippines," said Eugenia Victorino, head for Asia strategy at Skandinaviska Enskilda Banken AB in Singapore. "Whether this inclination will result in a change in tone of the central bank is worth watching."