Indonesia, Philippines Stay on Hold as Recoveries Gain Speed
Central banks in Indonesia and the Philippines held their key interest rates steady to help entrench economic recoveries that are picking up pace as Southeast Asia's worst Covid outbreaks recede. 
Bangko Sentral ng Pilipinas left the benchmark rate at 2% on Thursday, as predicted by all 20 economists in a Bloomberg survey. Minutes later Bank Indonesia held its key rate at 3.5%, as all 27 economists surveyed expected, and pledged to keep it there until it sees signs that inflation is picking up.
Monetary authorities in both countries will be watching closely for any emerging-market fallout from the Federal Reserve's decision Wednesday to speed up its exit from pandemic-era policies that supported the U.S. economy. The two central banks can bide their time for now as robust external buffers reduce the urgency to move in lockstep with the Fed. 
"Don't jump to the conclusion that if the Fed fund rate increases, then the BI rate will follow. That is not true," Bank Indonesia Governor Perry Warjiyo said in a briefing in Jakarta. When it's time to start tightening the central bank will begin by gradually reducing liquidity, and rates "will be determined by our assessment of inflation and economic growth in 2022 until 2024."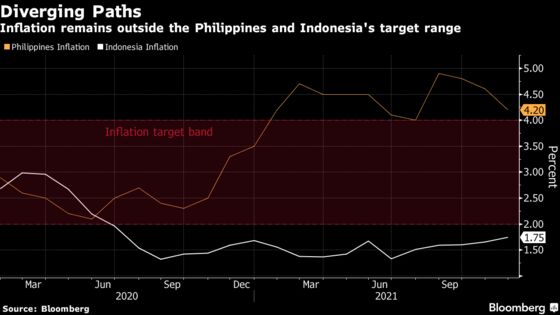 Warjiyo said Bank Indonesia would continue using macroprudential measures to support growth but that the focus of monetary policy next year would be "pro-stability." That's a change from the "pro-growth" stance the bank has pursued for most of 2021, but reiterates a message Warjiyo has delivered recently.
Still, despite the various measures BI has taken to lower lending rates, a more hawkish stance by the Federal Reserve could dry up global liquidity and lead to higher borrowing costs, according to Harry Su, head of equity capital markets at Samuel International.
The yield on Indonesia's 10-year bonds rose two basis points after the decision to 6.42%, while the rupiah was 0.1% weaker at 14,343 to the dollar and the benchmark stock index slid 0.5% at the market close in Jakarta.
What Bloomberg Economics Says...

"Bank Indonesia looks set to maintain its two-pronged focus on supporting currency stability and economic growth after it kept its policy rate unchanged Thursday. We think it would use interest rate adjustments if needed for the former and a looser macroprudential policy for the latter."

-- Tamara Mast Henderson, Asean economist

Click here for the full note.
"Despite the prospect of the U.S. Fed raising interest rates soon, we don't think BI will be in any rush to tighten," Gareth Leather, senior Asia economist at Capital Economics Ltd., wrote in a research note. "Once the initial boost from reopening is over, growth will inevitably start to slow. And while it is still too early to say for sure what omicron means for the economy, it does pose a significant downside risk to the outlook given Indonesia's low vaccination rate."
While inflation has been above the central bank's 2%-4% target range for months, Philippine policy makers attribute that to supply-side issues and not to overheating demand. The central bank on Thursday slightly raised the inflation forecast for this year and next, but said expectations are still anchored within the target range and CPI readings should return to the goal in 2022 and 2023.
"The Monetary Board sees enough scope to keep a patient hand on the BSP's policy levers owing to a manageable inflation environment," Bangko Sentral ng Pilipinas Governor Benjamin Diokno said in Manila. "Preserving ongoing monetary policy support at this juncture shall help sustain the economy's momentum over the next few quarters."
The BSP's message "was simple and clear that monetary policy will be geared toward supporting growth to the extent the inflation outlook allows, not external considerations like a faster Fed hiking cycle," said Euben Paracuelles, chief Asean economist at Nomura Holdings Inc. The BSP retains a dovish stance and likely "will keep its policy rate unchanged all of next year with inflation coming back to target."
What Bloomberg Economics Says...

"Bangko Sentral ng Pilipinas stood pat at its last meeting of 2021 and signaled continued policy support -- a stance that is unlikely to change through at least the first half of 2022, in our view. Upside risks to inflation will keep the central bank on guard, but with the headline gauge set to move back within its 2-4% target range and the omicron variant posing a new threat to the recovery, it's unlikely the central bank will be in a hurry to reduce accommodation."

-- Justin Jimenez, Asia economist

To read the full note, click here
The peso climbed as much as 0.6% after the decision, its biggest jump in more than a month. The Philippine currency has been the best performer in Asia in December.
BSP raised the 2021 inflation forecast to 4.4% from 4.3% previously, upped 2022 forecast to 3.4% from 3.3%
BSP Deputy Governor Francis Dakila said the BSP's policy stance has always focused mostly on domestic considerations, and the country's strong external position can shield it from financial-market volatility amid the Fed taper
Warjiyo reiterated that Bank Indonesia's "burden-sharing" program -- essentially, supporting the government's fiscal policy during the pandemic -- will continue until end-2022.
Bank Indonesia considers currency stability the most important factor for the local economy, and won't hesitate to take steps to keep the rupiah stable