Philippines Holds Rate in First Policy Meeting Under Diokno
(Bloomberg) -- The Philippine central bank left its benchmark interest rate unchanged in Governor Benjamin Diokno's first policy meeting, as officials remained cautious even as inflation eases.
Bangko Sentral ng Pilipinas held the overnight reverse repurchase rate at 4.75 percent, it said in a statement in Manila on Thursday, in line with the forecasts of all 21 economists surveyed by Bloomberg. The ratio of deposits large banks are required to hold in reserve was left at 18 percent.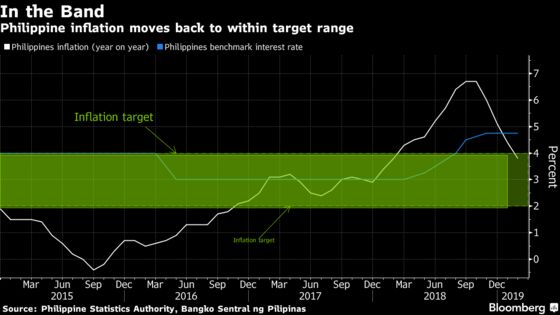 The central bank said a projected recovery in household spending and the government's infrastructure program is supporting the economy. However, there are risks including the budget impasse in Congress, it said.
Inflation forecasts for this year and next were little changed at 3 percent. The central bank's target is for inflation to average 2 percent to 4 percent
After breaching the target last year, inflation reached its slowest pace in a year at 3.8 percent in February and has averaged 4.1 percent year to date
Diokno took office this month and has indicated his willingness to cut rates or reduce the reserve ratio for banks. A former budget minister -- and a surprise appointment to the central bank post -- he's seen as pro-growth and tolerant of a weaker currency. However, he has said in recent weeks that any policy adjustment will be data dependent
The peso has lost almost 2 percent this month, among the worst performers in global emerging markets
Analysts at DBS Group Holdings Ltd. and elsewhere have flagged risks of an inflation rebound in the Philippines and a possible negative market reaction if the central bank takes "overly aggressive or premature" easing measures