Philippines Expects 30 Million Vaccines After Some Cities Ran Out
(Bloomberg) -- The Philippines expects to receive about 30 million Covid-19 vaccine doses this month and next, according to its vaccine czar, who also apologized for supply delays that halted inoculation in some cities.
About 16 million doses will arrive in July that would include vaccines donated by Japan and U.S., those committed under Covax as well as shots procured by companies, vaccine czar Carlito Galvez said in a recorded briefing aired Tuesday night. Around 14 million doses are expected in August, he said.
Several cities in the Philippine capital region have halted their first-dose vaccination programs as supply from the national government runs out. Galvez said delays in supplies are unavoidable and usually occur in the first and last weeks of the month as vaccine manufacturers prepare for deployment.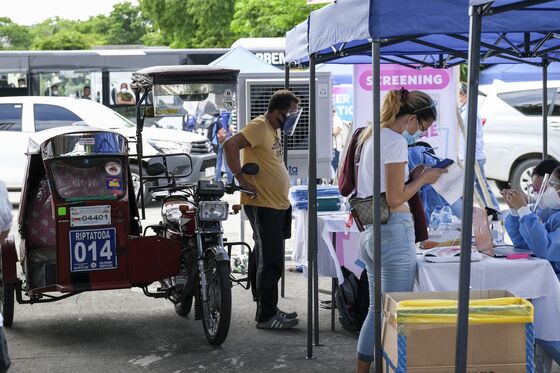 The Philippines is battling one of the worst coronavirus outbreaks in Asia, with nearly 1.45 million cases and more than 25,000 deaths as of July 6. Only about 2.9 million individuals or less than 3% of its population have been fully vaccinated, risking efforts to reopen an economy that remained in recession in the first quarter.
Around 3 million Johnson & Johnson vaccine doses from the U.S. is expected this month, Galvez said. By end-August, the Philippines would have received a total of 47 million doses from various manufacturers, he said.
The vaccination roll out is picking up with 1.26 million shots administered in the first five days of July compared with 5.46 million doses for the entire month of June, Galvez said.
Border control protocol - which includes a 10-day facility quarantine, a Covid-19 test on the seventh day and four more days of quarantine at the local government level for people arriving in the Philippines - has prevented the delta variant in households and communities, Health Secretary Francisco Duque said in the same briefing.
Sinovac Biotech Ltd. has sought to amend its emergency use authorization to include children from three to 17 years old, Food and Drug Administration head Eric Domingo said.