Philippines Central Bank to Keep Easy Policy Over Next Two Years
(Bloomberg) -- The Philippine central bank will likely keep policy accommodative over the next two years to deal with lingering economic damage from the coronavirus pandemic, Governor Benjamin Diokno said Tuesday.
"We know that this crisis may be protracted," Diokno said when asked how long the central bank will continue its bond-buying and liquidity support programs. "At least for the next maybe two years, we'll be willing to accommodate the economy."
Policy makers will likely wait a few more quarters before adjusting the benchmark rate again, the governor said in an interview with Bloomberg TV's David Ingles and Tom Mackenzie. The interview came several weeks after Diokno said space remains to adjust monetary policy further, but there's no need to cut the key rate in coming quarters.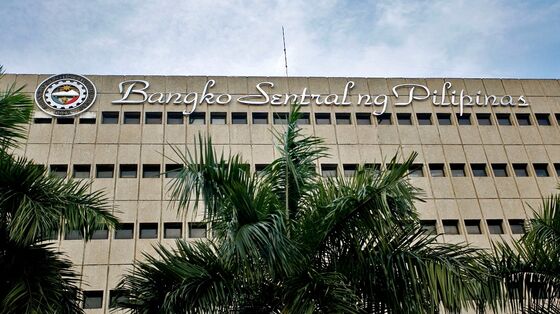 Bangko Sentral ng Pilipinas has been among Asia's most aggressive central banks in easing policy this year, and has been at the forefront of local virus-relief efforts with the Philippine government mired in debate over fiscal stimulus. The central bank has cut its benchmark interest rate by 175 basis points this year to 2.25%, lowered banks' reserve requirement ratios by 2 percentage points, bought government securities and eased lending rules to boost liquidity.
A lower key rate "reduces incentive" for portfolio investments which could flow into the country seeking to take advantage of interest-rate differentials, Diokno said in a virtual press conference later Tuesday.
Policy makers are closely looking at whether risk aversion and income erosion due to the pandemic will spill over into financial markets, he said.
Recent easing steps aim to boost an economy expected to contract by the most in more than three decades this year. Business activity has been slow to recover since a two-month lockdown of the country's main island was eased, with fresh coronavirus cases spiking alongside the reopening.
Diokno told Bloomberg TV that even if new restrictions on mobility are needed the government probably won't revert to a nationwide lockdown, which contributed to the economy likely contracting by as much as 6.7% in the second quarter.
"We'll be more focused," he said. "I think we won't do the same thing all over again. I think we'll be limited to community lockdown."
Diokno said the prudent approach is to pursue a "calibrated opening of the economy, even as the virus' impact is broader than initially thought.
He expects inflation to remain benign in the next two years, while there are early indications that bank lending -- especially to small businesses -- has started to pick up.