Philippine Inflation Cools, Giving the Central Bank 'More Space'
(Bloomberg) -- Annual consumer prices in the Philippines rose at the slowest pace in 10 months in January, giving the central bank "more space" in its policy review ahead of Thursday's rate meeting.
"With modest demand pressures, monetary policy could be slight on the brake" Deputy Governor Diwa Guinigundo said in a mobile-phone message after January inflation decelerated for a third month. "But the BSP needs the benefit of time and more observations."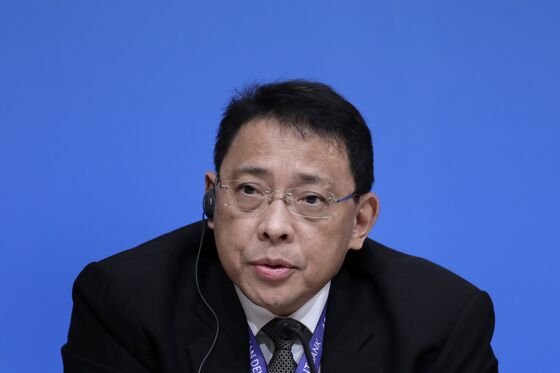 The Philippines raised its policy rate by a total of 175 basis points in five increases last year, among Asia's most aggressive tightening cycle, to contain inflation that accelerated to the fastest since 2009. Monetary authorities will probably keep the benchmark rate unchanged at 4.75 percent on Feb. 7, according to all 12 economists in a Bloomberg survey.
The latest data brings the central bank closer to cutting banks' reserve requirement ratio or reducing its key rate, or both, Rizal Commercial Banking Corp. economist Michael Ricafort. The move may come as soon as inflation returns to the 2 percent to 4 percent target range which could happen as early as next quarter, he said.
"The BSP will be in a more strategic position to one, ascertain the impact of the previous move to reduce RRR and the subsequent tightening it had to implement in the face of potential second round effects and disanchoring of inflation expectations and two, chart the future path of monetary policy," Guinigundo said.
The impact of additional excise taxes on oil that took effect in January "may not have been fully included" in the latest data, said National Statistician Lisa Bersales as not all retailers have imposed the levy during data gathering.
The central bank is validating its current inflation forecasts and is "ready to change course when warranted," according to Guinigundo, who on Feb. 1 said there's no rush for monetary authorities to reverse the rate hikes
January inflation was below the 4.5 percent median estimate of 16 economists in a Bloomberg News survey
Seasonally adjusted month-on-month inflation was 0.1% last month compared with -0.4 percent in Dec.
Philippine markets are shut on Tuesday for Lunar New Year. Trading will resume on Feb. 6