Philippine Inflation Approaching 7% Signals More Rate Hikes
(Bloomberg) -- Consumer prices in the Philippines rose at the fastest pace in more than nine years in September, with central bank Deputy Governor Diwa Guinigundo pledging a "strong tightening bias."
Inflation accelerated to 6.7 percent from 6.4 percent in August, the Philippine Statistics Authority said in Manila on Friday. That compared with the 6.8 percent median forecast of economists in a Bloomberg survey.
"The Bangko Sentral ng Pilipinas will remain vigilant with strong tightening bias until such time that we are certain inflation can be sustained within the target range of 2 percent to 4 percent for 2019 and 2020," Guinigundo said in a mobile-phone reply to questions on Friday.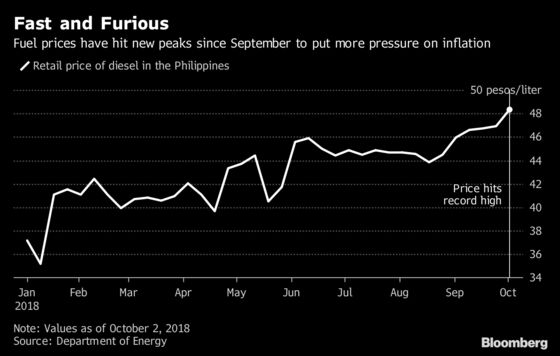 Prices started spiking at the beginning of the year following tax increases on fuel, sugary drinks and cigarettes -- the increases swiftly moved to rice, the nation's staple food, due to supply shortages. On top of that, a more than 8 percent slump in the currency this year is adding to the inflationary pressure.
"Pressure is still rising and the central bank may raise rates by another 25 basis points this quarter," said Eugenia Fabon Victorino, head of Asia strategy at Skandinaviska Enskilda Banken AB in Singapore. "We know that inflation will breach the 2018 target, but what's important is whether or not the breach will extend to next year."
The central bank has delivered 150 basis points of interest-rate increases since May, and forecast annual inflation will exceed a target of 2 percent to 4 percent until next year. Barring unforeseen events this quarter, inflation may have already peaked and there are "initial signs of disinflationary trend through 2020," Guinigundo said.
The peso was little changed at 54.295 per dollar as of Friday morning in Manila. The benchmark stock index fell 0.2 percent.
What Our Economists Say...
We expect the BSP, which said further tightening would be data-dependent, to raise the overnight borrowing rate by another 50 basis points before year end. The central bank has more work to do to restore confidence in the inflation target, in our view.

-- Tamara Henderson, Bloomberg Economics
The central bank will assess data on domestic demand, supply conditions, liquidity, credit and inflation for an integrated view on the inflation outlook and appropriate policy stance, the deputy governor said.
Policy makers are scheduled to next decide on interest rates on November 15.