Philippine Central Bank Reassures Investors Over Bond Buying
(Bloomberg) -- Follow Bloomberg on LINE messenger for all the business news and analysis you need.
The Philippine central bank has reassured investors that its government bond-buying program that started in March is legal and won't create risks to the economy, Governor Benjamin Diokno said.
"If there's one question, it's about the repurchase agreement with the government, and I explained to them that it's allowed by law," Diokno said in an online briefing Thursday, when asked what concerns about the Philippine economy are typically raised during investor calls.
Along with many emerging-market peers, Bangko Sentral ng Pilipinas has unleashed a wave of easing measures to bolster an economy ravaged by the coronavirus pandemic. This is the first time the central bank is buying government bonds since the move was allowed under its 2019 charter -- which has helped reverse an increase in bond yields.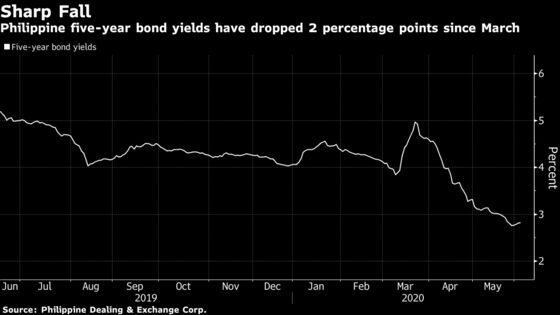 Investors "know that there's very strong coordination between the executive branch and central bank," Diokno said. "They know that we have a lot of monetary and fiscal space, and we're willing to use them if things go from bad to worse."
The BSP, which bought 300 billion pesos ($6 billion) of bonds from the government in March, is open to raising the current ceiling, which will require changing a law, Diokno said this week. The cap is 20% of the government's average revenue in the last three years, equivalent to about 540 billion pesos.
Meanwhile, BSP purchases in the secondary market this week alone are estimated at 50 billion pesos, according to traders from banks including Rizal Commercial Banking Corp.
Diwa Guinigundo, the central bank's deputy governor from 2005 to 2019, cautioned against prolonged excess liquidity, saying it could boost inflation and weaken the currency, particularly when the economy starts to recover.
"Now they can be self-confident because domestic demand is quite weak, so inflation may remain under control," Guinigundo, who is retired, said in an interview. The central bank "will have to be prepared to unwind in the future by aggressively mopping up all that liquidity as necessary."
Diokno has said measures the BSP has taken, including lowering its benchmark interest rate and reserve requirement ratios, have freed up 1.1 trillion pesos in liquidity. Bond-buying activities in the secondary market account for just a "small" portion of the total, he said.
"It is the release of liquidity that has really calmed bond markets," said Paul Raymond Favila, head of markets and securities services at Citigroup Inc. in Manila. "Buying, though, has the most direct impact to the bond market of all the tools they are using."