Philippine Central Bank Must Conserve Bullets, Ex-Deputy Says
(Bloomberg) -- After a year of heavy lifting to keep the Philippine economy afloat during one of the world's longest lockdowns, it's time for the Bangko Sentral ng Pilipinas to stay on the sidelines, a former deputy governor said.
"Monetary policy today has done its share and should now focus on stronger monitoring," Diwa Guinigundo said Wednesday in an interview by text message. "BSP should conserve its ammunition considering that inflation seems to be on an uptrend."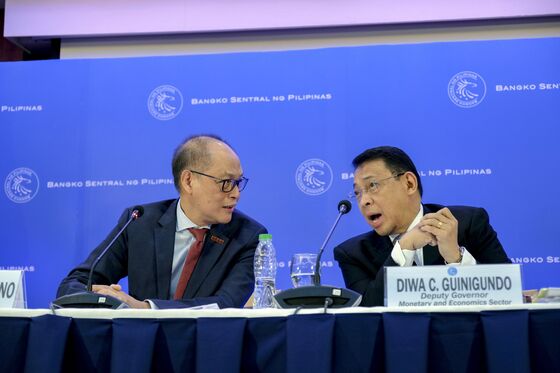 Governor Benjamin Diokno has repeatedly said the benchmark interest rate will remain on hold in coming months, noting a lagged effect from last year's cuts in the policy rate and banks' reserve requirement ratios. Fiscal intervention will be crucial in reviving domestic demand, Diokno has said.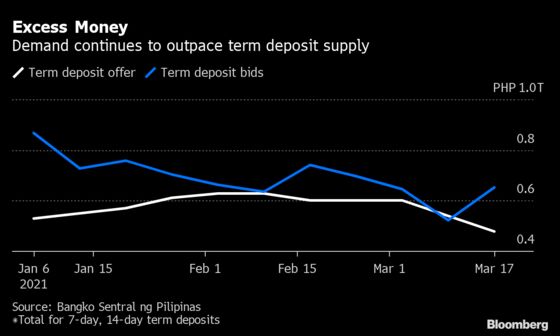 While the economy has gradually reopened, it's likely to remain in recession this quarter as the Philippines grapples with Southeast Asia's second-worst Covid outbreak. Inflation rose to a 26-month high of 4.7% in February.
The monetary policy committee, which next decides rates on March 25, will have to contend with the dovish tone from the Federal Reserve. Fed Chair Jerome Powell said Wednesday interest rates should remain near zero at least through 2023 even as the U.S. economic outlook improves, and argued that a rise in inflation this year will be transitory -- a point Diokno has stressed repeatedly about rising prices in the Philippines.
Guinigundo, who was a deputy governor at the BSP from 2005 to 2019, was considered a strong candidate to become governor until Diokno, who was then budget secretary, was appointed by President Rodrigo Duterte.
The central bank has received between 500 billion pesos ($10.3 billion) and more than 800 billion pesos in bids for its weekly term deposit auctions this year, before cutting the volume offered to 480 billion pesos this week, the lowest in 2021. Meanwhile, demand for its weekly sale of 28-day bills rarely falls below 100 billion pesos, and recent sales of local corporate bonds and initial public offerings of shares worth billions of pesos were similarly well received.
Guinigundo said excess funds have just been sloshing around financial markets because business prospects remain uncertain.
"In the Philippines, this is symptomatic of excess liquidity following the ultra-easy monetary policy of BSP," Guinigundo said. "Ideally, we should have more real-sector activities than financial activities. Excessive financialization could in fact worsen the business down-cycle."