PG&E Stock Roars as California Signal Gives Analysts Hope
(Bloomberg) -- Wildfire-ridden PG&E Corp. surged Friday, after comments from the head of California's Public Utilities Commission (CPUC) eased Wall Street concerns over the utility's future as it faces billions of dollars in potential liability from the deadly blazes.
Shares soared as much as 44 percent on Friday, the most intraday on record and erasing all of Thursday's 31 percent plunge, after the commissioner on Thursday said he can't imagine allowing the state's largest utility to go into bankruptcy. The glimmer of hope may help unify calls from analysts who were becoming increasingly divided on the stock. Citi upgraded the stock Friday morning, a day after Morgan Stanley cited an "unprecedented level of uncertainty" for its downgrade. Bank of America defended the stock later Thursday, calling the share weakness and bankruptcy concerns overstated.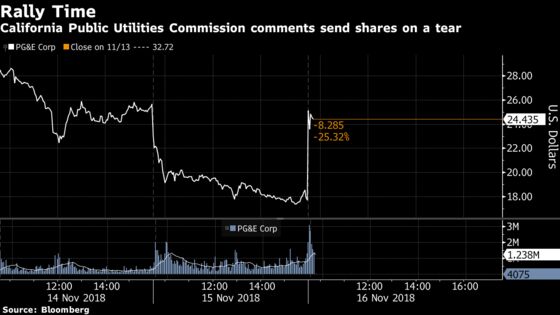 Here's what analysts are saying early Friday:
CPUC "steps-up big time!" and Citi thinks CPUC is acting now as it's "easier for them to come out quickly to support the utility vs something from the political spectrum."
Mehta also says he doesn't think CPUC would be "taking this aggressive a step to support the utilities without some level of support from the legislative side."
Upgrades PCG to buy from neutral, price target to $40 from $48. Mehta also upgraded California utility peer Edison International, raising it to buy from neutral. Edison's shares gained 12 percent in pre-market trading.
Morgan Stanley, Stephen Byrd
Byrd believes it's "likely that the CPUC believes it has the authority to apply the 'stress test' to the 2018 wildfires, not just to the 2017 wildfires as specified in legislation."
Sees the Moody's downgrade and review for further potential downgrade as "helpful because the state of California now has specific feedback regarding what is required (from at least one rating agency) to avoid PG&E falling to below investment grade ratings."
Morgan Stanley rates PG&E equal-weight, price target $31; Edison equal-weight, price target $76.
JPMorgan, Christopher Turnure
"We acknowledge the long and challenging road ahead for investors, but see too much at stake for the state to realistically abandon utilities."
Rates PCG overweight, price target $39; Edison neutral, price target $59