PG&E Bonds Follow Stock Higher as Bankruptcy Concerns Ease
(Bloomberg) -- PG&E Corp. bond prices rose and spreads tightened across the curve in trading late this week as investors regained confidence in the utility's prospects of staying afloat.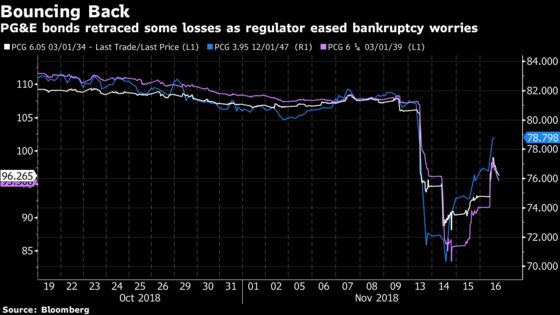 'Can't Imagine' Bankruptcy
The head of California's Public Utility Commission said earlier this week that he can't imagine allowing the utility to go bankrupt.
The utility potentially faces billions of dollars in damages as state authorities investigate its equipment as a possible cause of the deadly California wildfire.
Halfway There

PG&E bonds rose sharply in Thursday's trading session and continue to climb higher on Friday, but have not yet returned to levels seen before news of the wildfires emerged. Some of its notes have tightened more than 120 basis points today, which translates to about a 5.7% increase in dollar price.
The company's most-actively traded bonds, its 6.05% notes due in 2034, have tightened about 85 basis points above Treasuries since Wednesday. The bonds, however, still trade at levels similar to high-yield securities.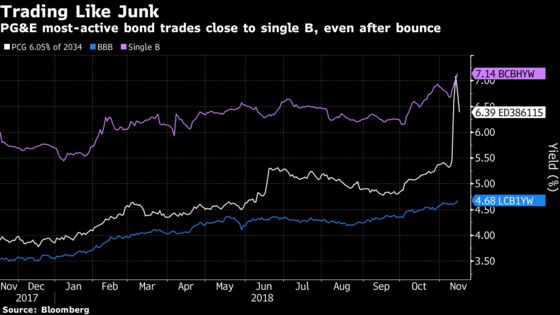 PG&E's credit rating was cut Thursday by both Moody's Investors Service and S&P Global Ratings, with the possibility of further downgrades. The utility is now rated Baa3 at Moody's and BBB- by S&P, just one step above junk.
Both agencies cited the rising risks that the utility may face from the Camp Fire and viewed the company's decision earlier this week to completely draw down on its credit facilities as prudent, yet remain focused on the company's ability to access the capital markets.
Not Trading Like a Utility
"Clearly with the stock move, the market is not treating this like a utility anymore," said Morningstar analyst Travis Miller in a phone interview.
Utilities are known for their defensive, non-cyclical, and stable nature and high credit quality as investors typically view them as having a low chance of default.
"We don't see any immediate threat to PG&E, but certainly it appears the market is going to take a long time to get over any large fire-liability risk," he said.