Peru Starts Vaccination Drive Amid Widespread Public Opposition
(Bloomberg) -- Peru began a rollout of Sinopharm's Covid-19 vaccine on Tuesday, with the government seeking to raise public awareness in a nation where polls suggest close to half of the population opposes inoculation.
Doctors at hospitals in Lima received their first shots of the Sinopharm vaccine following the arrival of 300,000 doses from China on Sunday. President Francisco Sagasti is set to receive his first shot in the coming hours. A further 700,000 doses are scheduled to arrive on Feb. 14.
Peru becomes the first Latin American nation to use the Chinese vaccine, which is central to its plan to inoculate as much as half its 33-million population during the first half of this year. The government has signed agreements for 85 million doses from Sinopharm, Pfizer, AstraZeneca and the Covax alliance, though so far just 2 million have been confirmed to arrive by April.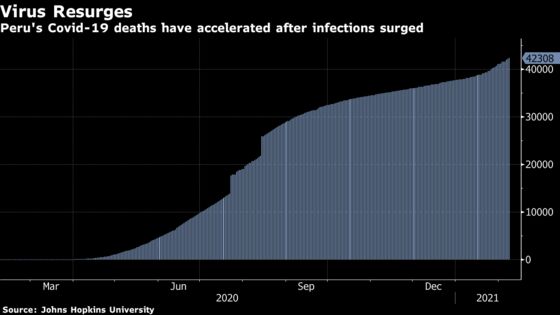 The government this week also began a social media campaign promoting the vaccine in the face of widespread public distrust. According to an Ipsos poll last month, 48% of those questioned said they don't want a shot, up from 22% in August. Concerns about the speed with which the doses were developed and possible side effects were among the reasons given for opposition.
Peru has reported more than 42,000 confirmed deaths from Covid-19, and thousands more are suspected to have succumbed to the disease. A spike in coronavirus infections since December has led to deficits of medicinal oxygen and a shortage of intensive care unit beds and medical staff. It has also forced the government to impose shelter-at-home restrictions in Lima and some other parts of the country.