Peru Markets Tumble as Castillo Passes Fujimori in Runoff Count
(Bloomberg) -- Peruvian assets tumbled as partial results from Sunday's presidential election showed Pedro Castillo, the rural school teacher who promises to redistribute wealth, taking a slight lead over Keiko Fujimori. The race remained too close to call.
The currency plunged 2.5%, the biggest single-day decline in a decade, and hit a record low against the dollar while the benchmark stock index tumbled more than 7%. Overseas bonds slumped, and the cost to insure the country's debt against default ticked higher as investors started to price in the possibility of a left-wing government.
Analysts cautioned it was too early to declare a winner and there may be calls for a recount, delaying any decision for days if not longer. Politics have turned increasingly volatile in the Andean region after Covid-19 overwhelmed shoddy healthcare systems and sank rickety economies into deep recessions. Far-left presidential candidates are also in front in early election polls in Chile and Colombia, where unrest has been mounting. In Peru, Castillo, an outsider who was unknown by most in the country just a few months ago, capitalized on the crisis by pledging to reduce inequality and end systems that favored the wealthy elite.
"The country is pretty much split down the middle," said Alfredo Torres, director of Ipsos Peru.
With 93.8% of the vote counted, Castillo had 50.2% against 49.8% for Fujimori. They're now separated by 74,636 votes. The breakdown of the ballots yet to be counted -- some from overseas that tend to favor Fujimori but more from rural areas where Castillo has been outperforming -- suggests Fujimori's path to victory is narrowing.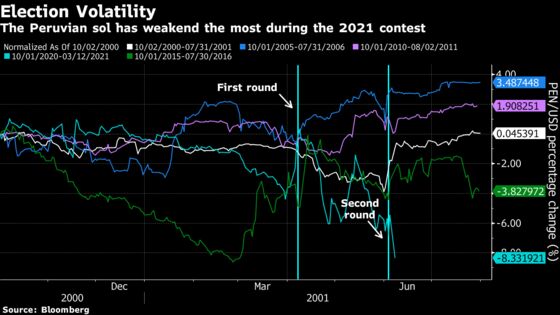 Peru's currency weakened 2.5% to 3.938 per dollar, while the S&P/BVL Peru General Index fell 7.4%. The yield on Peru's 10-year dollar bonds rose 19 basis points to 2.85% with the price falling 1.7 cent to 99 cents on the dollar. Five-year credit default swaps rose 9 basis points to 99 basis points, the highest intraday level since April, according to prices compiled by Bloomberg.
"Regardless of who wins, there will be outsized moves in Peruvian assets and investors don't want to be caught on the wrong side," said Brendan McKenna, a currency strategist at Wells Fargo in New York.
Fujimori, who is under investigation for corruption and campaigned while out on bail, has vowed to save the country from "communism" by preserving a liberal economic model and boosting cash payments to families affected by the pandemic. The daughter of former president who helped Peru escape an economic crisis and largely subdued a Maoist guerrilla group before being jailed for human-rights violations, it's her third attempt at the top office.
Castillo, who launched his political bid with a Marxist party and was virtually unknown at the start of the year, ran on a platform of extracting more taxes from multinational miners and oil drillers to increase outlays on education and health. He blames the country's inequality on the ruling elite whom he says have long been content to run Peru from Lima while ignoring swathes of the country.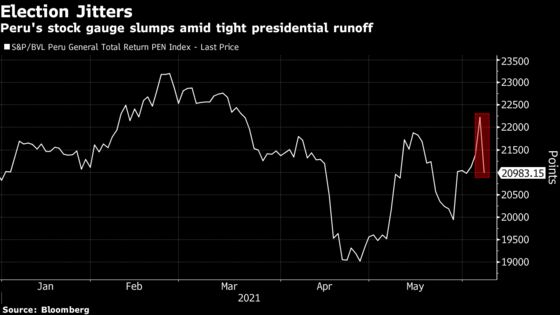 Castillo emerged as the front-runner from April's first round after unexpectedly beating out a field of 17 other candidates, but he did so with less than 19% of the vote to Fujimori's score of just over 13%.
The tight runoff mirrors the last presidential election, in 2016, when Pedro Pablo Kuczynski eventually beat Fujimori by a narrow margin after days of uncertainty.
The class and geographic divide this time around was evident in Sunday's exit poll. Fujimori won the capital Lima and in northern coastal areas, while Castillo took the more rural Andean regions, including the mining districts of the south of the country.
"The country is divided ideologically into two blocs," Jorge Montoya, a congressman-elect for the conservative Popular Renovation Party, said in a TV interview on Sunday evening.
Castillo called on his supporters to be patient and wait for their votes to be counted. Fujimori also called for calm and said that whoever wins will have to seek to unite the country.
A country of 32 million people, Peru is struggling after suffering the world's highest death rate from the pandemic as well as a deeper economic slump than every other major economy in the Americas.
The nation has also endured a bout of political volatility and scandal over the last year. The next president, who is due to be sworn in July 28, will be Peru's fourth leader since November.