Peru Sol Hits Record Low as Leftist Takes Crushing Poll Lead
(Bloomberg) -- Peru's currency took another battering Monday after leftist presidential candidate Pedro Castillo extended his poll lead ahead of June's runoff election to a crushing 20 percentage points.
The sol dropped 1.2% to a record low for the second consecutive trading session, underperforming all other emerging-market currencies despite intervention from the central bank. The benchmark stock index touched a five-month low.
Castillo is backed by 41.5% of people, compared with 21.5% for market-friendly Keiko Fujimori, according to a poll by Instituto de Estudios Peruanos published in the daily La Republica Sunday.
The leftist's lead ahead of the June 6 vote has spooked investors in Peru, pushing them to sell everything from stocks to sovereign bonds. Since coming out of no-where to lead the first-round election on April 11, Castillo, a former school teacher whose party has praised Latin American leftists such as Hugo Chavez, hasn't revealed much about his plans for the economy or about his team of advisers.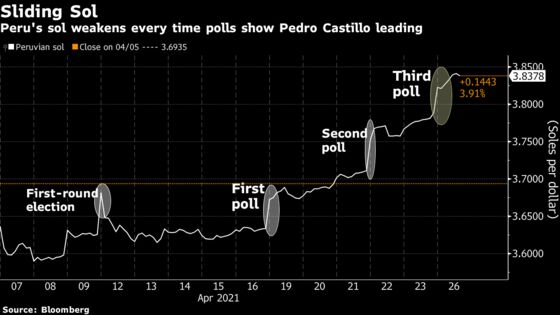 The latest poll suggests that Peru's economic model is at the center of the election. More than half of those who intend to vote for Castillo say they agree with totally changing the economic system, while 25.4% of those favoring former president Alberto Fujimori's daughter say they don't want any economic changes.
"Castillo is benefiting from a strong desire for change and anti-establishment sentiment," Alberto Ramos, chief Latin America economist at Goldman Sachs, wrote in a note Monday. If implemented, his interventionist heterodox policy platform would entail significant risks to the macro economy, according to Ramos.
The poll shows that 21.2% of people said they would vote blank, and 13.5% were undecided. The findings were based on telephone interviews with 1,367 people between April 17-21 nationwide. The margin of error is plus or minus 2.65 percentage points.
Peru's 2037 dollar-denominated bond was headed to close at the lowest since March 2020. The cost of insuring against default for the next five years increased to the highest since May on Monday, after climbing more than 16 basis points last week.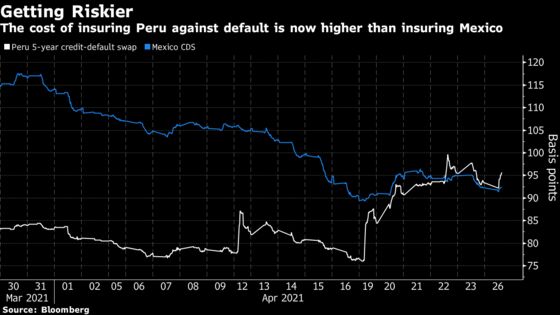 Read more: Peru's Castillo Leads Fujimori By 11 Points in Ipsos Runoff Poll
"If far-left candidate Castillo remains the front-runner with a 20% lead in the polls, then there is potential for further underperformance," Siobhan Morden, head of Latin America fixed income strategy at Amherst Pierpont, said in a note. "It's also no surprise that poor vaccination rates may be contributing to the populist backlash."