Peru's New President, Prime Minister Raise Risks as Debt Tumbles
(Bloomberg) -- Investors sent Peruvian bonds sliding in the aftermath of President Pedro Castillo's inaugural call for a new constitution and choice of prime minister.
Peru's dollar bonds due in a century are the second-worst performers in the world on Thursday, beating only serial-defaulter Belize, according to data compiled by Bloomberg. Meanwhile, the yield on the benchmark bond due in 2031 rose to the highest since the close on June 16, a day after the final vote count showed Marxist party-backed Castillo winning the election. The cost of insuring the nation's debt against default has climbed six basis points since his speech Wednesday, reaching the highest level in over a month. Peru's local markets are closed for a national holiday.
While Castillo had hinted at more centrist economic policies toward the end of his campaign, the former school teacher took some investors by surprise, appointing a hard-liner from the Peru Libre party to be his prime minister and bolstering the influence of the Marxist group.
"The trade in Peru was to be underweight before elections, then overweight afterward as most of the volatility was priced in," said Guido Chamorro, an investor at Pictet Asset Management in London. "Now that the president has been sworn in, I think it's about reducing those overweights. It's downhill until we can see the ability of Congress to stop some of these measures."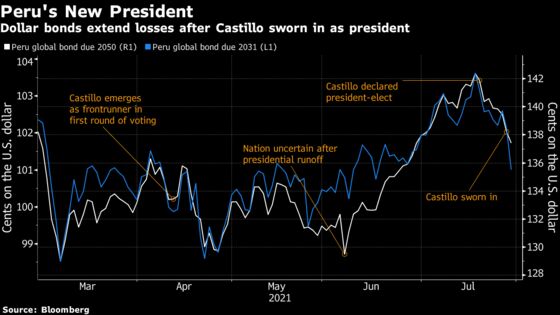 A day after taking office, Castillo named Congressman Guido Bellido to be his prime minister during a symbolic speech to commemorate the nation's 200 years of independence. Bellido has praised Cuba's communist government and denied its a dictatorship. He's also a close ally of Peru Libre founder Vladimir Cerron.
Markets had already soured to Castillo following Wednesday's inaugural speech in which he said the country needed to embark on a constitutional referendum, recover sovereignty over its natural resources and renegotiate free-trade deals.
Policy Direction in Question
"There's a lot of tension within Castillo's coalition as we would have expected, and investors should get used to that. A lot of this is policy making is going to get made on the fly," said Gorky Urquieta, an investor at Neuberger Berman in Atlanta, whose firm holds about $30 billion in emerging-market debt. Local markets have repriced lower and are more attractive than the external debt now, he said.
Peruvian stocks and bonds plunged over the last three months as polls before the vote showed Castillo leading rival Keiko Fujimori. But the new president's market-friendly economic advisers and the narrow margin of victory brought relief to investors who saw him as a threat to the macroeconomic policies that have made Peru one of Latin America's havens. Shortly before his inauguration, Castillo delayed the appointment of his cabinet, once again raising doubts over the policy direction his administration will take.
"There's little space for moderation," said Alejandro Arreaza, an economist at Barclays in New York. "He has an radical opposition against him and a party led by Cerron, which has a very clear ideological agenda. If Castillo moderates, he loses support from the party and he's left in the hands of the opposition, which at any moment can try to impeach him."
Former World Bank economist Pedro Francke, who was named Castillo's main economic adviser just days before the vote, is reassuring investors that his new boss isn't like Venezuela's Hugo Chavez, whose economic policies set up the stage for the country's worst recession in decades.
But Thursday's selloff in 100-year debt suggests investors are concerned about the long-term. That's a very different attitude from when the debt sold in November, just a week after a new president took over following massive social unrest. It was the lowest-yielding century bond ever auctioned by an emerging-market government.
Peru stands out as a good investment among peers in the developing world due to its low debt levels, strong institutions and a "robust" economy -- even if there's a shift in policy, Dan Shaykevich, the co-head of emerging-market and sovereign bonds at Vanguard Group Inc., said in an interview Wednesday.
"We view Peru as a strong credit," said Shaykevich. "Strong credits are in a good position to absorb any kind of volatility that comes from policy uncertainty."