Perrigo's Slump Drags Israeli Stocks to Biggest Drop Since 2011
(Bloomberg) -- A record decline for generic drugmaker Perrigo Company Plc dragged Israel's main stock index to its biggest decrease in more than seven years.
The TA-35 Index closed down 5.1 percent, the biggest session decline since 2011. Perrigo's loss of 29 percent contributed the most to the fall.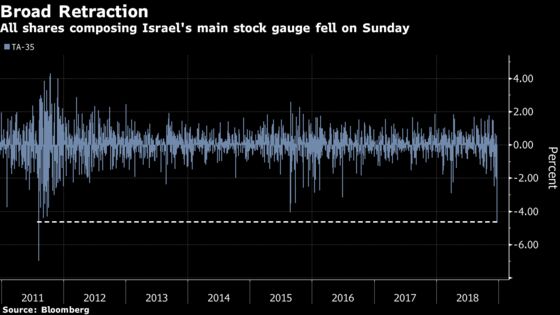 The sell-off in Tel Aviv follows a slump in Perrigo's shares in New York on Friday, when they declined by the most since 1994 after Irish tax authorities hit the company with an unexpected $1.8 billion tax assessment. The company said it will fight it.
Teva Pharmaceutical, a drugmaker also traded in Israel, at one point was down 9 percent -- its most in more than a year -- and closed down 8 percent. Bank Hapoalim BM and Bank Leumi Le-Israel BM also slipped at least 3.9 percent each.
Perrigo extends drop this year to 53 percent, set for the worst full-year decline since its shares started trading in Israel in 2005.
The TA-35 was poised for yearly loss of 4.0 percent, its biggest annual drop since 2011.
Related stories: 
On Dec. 22: Perrigo Rout Drags Pharma, Alexion Gets FDA OK: N.A. Health Wrap
On Dec. 21: Perrigo Plunges as Brexit Pushes Tax Man to Come Calling 
On Dec. 21: Perrigo Pharma to File Appeal Disputing Irish Revenue NoA