Penn National Jumps to Record as 1,600% Rally Regains Steam
(Bloomberg) -- Penn National Gaming Inc. jumped to a record in midday trading, rising as much as 8.8%, as trading volume picked up for the casino operator and minority owner of Barstool Sportsbook.
Tuesday's rally brought the company's market value above $12 billion for the first time, leaving it a few billion behind legacy casino stocks like Caesars Entertainment Inc. and MGM Resorts Intl. Penn National has now surged more than 1,600% from a March 18 bottom, far beyond even the gain for online betting rival DraftKings Inc., which has more than doubled since going public.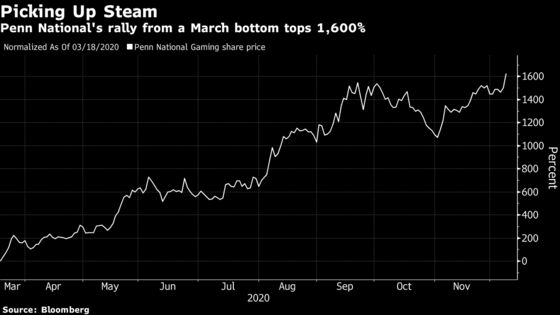 While Penn's surge drew a tweet from Barstool Sports' founder and cult retail investing figure Dave Portnoy, Wall Street isn't sold on further gains for shares. The stock traded as high as $78.68 in Tuesday's session, breaking above the average 12-month analyst price target of $77.13.