Pence's 'Greatest Economy' Claim Is Only Partial Picture of U.S.
(Bloomberg) -- U.S. Vice President Mike Pence said the Trump administration has built "the greatest economy in the world."
Pence acknowledged Wednesday during the Republican National Convention that the economy was stopped in its tracks this year when the coronavirus "struck from China." He said, however, that President Donald Trump originally inherited an economy "struggling to break out of the slowest recovery since the Great Depression" and could lead a rebound again.
The vice president's remarks capture some elements of truth but brush past the devastation of the pandemic and fail to give a complete picture of the U.S. economy in recent years.
Before the coronavirus pandemic plunged the economy into crisis, Trump could boast that U.S. jobs had increased by close to 7 million on his watch, with unemployment hitting a half-century low of 3.5%. In July -- amid the current, fledgling recovery -- it was 10.2%, down from a peak of 14.7% in April.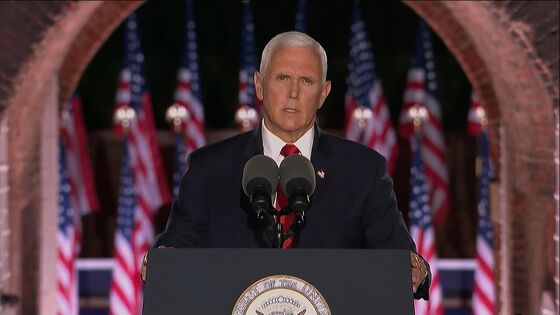 Pence went on to say the U.S. labor market has regained 9.3 million jobs in the past three months. He pledged the Trump administration would put the health of Americans first as it worked to re-open schools.
The administration and Republican lawmakers, however, have been criticized for resisting Democratic efforts to include aid to states and cities in another fiscal package, a step that could help local authorities re-open schools safely.
As for economic growth, it averaged 2.5% during Trump's first three years in office, boosted by a rise in government spending. While short of his 3% goal, the figure exceeded expectations of many economists and extended the expansion that began under Obama to a record 10 ½ years.
Pence's claim that the recovery following the 2007-09 recession was the slowest since the the Great Depression has merit. Average annual growth rates in that expansion were the lowest of any expansion period in data going back to 1949.
GOP critics, however, have pointed out that the pace of growth in that period was hindered by Republicans' successful efforts following the 2010 Congressional elections to block continued fiscal support for the economy.