Peloton Turns From Lockdown Darling to 'Mispriced' Growth Stock
(Bloomberg) -- Peloton Interactive Inc. is going from a lockdown darling to a startup struggling to make money as the world comes back to life, boosting the likes of Airbnb Inc.
Shares of Peloton fell as much as 34% Friday to the lowest since June 2020, helping to erase most of the gains seen as it surged during the height of the pandemic. That's putting it among several so-called lockdown winners watching demand fade as the world returns to near normalcy. Compare that to the rally in Airbnb and wearable-camera maker GoPro Inc. -- two companies that are benefiting as people come out of virtual hibernation.
"There is no room for misses when you are a still unprofitable growth stock," Jim Dixon, an equity sales trader at Mirabaud Securities said. He also highlighted Square Inc.'s Cash App coming in weaker than expected, which he said was a "growth engine" during the lockdown. "People are getting out of lockdown winners."
On the other hand, Airbnb, Expedia Inc. and GoPro are all gaining Friday after their quarterly results showed they were gaining from the resurgence of vacation travel.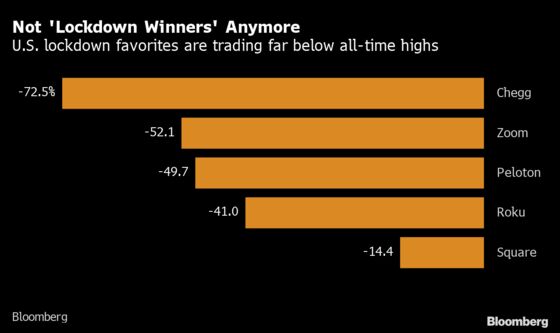 "We were wrong about Peloton's ability to execute amidst re-opening and competitive headwinds," said MKM Partners analyst Rohit Kulkarni after downgrading the stock to neutral, joining other Wall Street analysts who cut ratings on the stock. Still, more than half of the analysts covering the stock have buy ratings, according to data compiled by Bloomberg.
Forecasting demand in a post-lockdown world has been challenging for the company as well, which slashed its fiscal 2022 sales outlook to $4.4 billion to $4.8 billion, only three months after pegging it at $5.4 billion. "Modeling the exit from COVID and the massive growth we saw in fiscal 2021 would be a challenging task, and that has certainly proven to be true," the company said.
For some investors the selloff in Peloton and other pandemic winners is a welcome adjustment to valuations. 
"There is a place for Peloton, but I would say the valuation needs to be and will be adjusted," said Mark Stoeckle, chief executive of Adam Funds, pointing to expectations that Peloton will not make money until 2024 at the earliest. "Peloton is a good company it is just mispriced."