Peloton Soars After Stock Offering Attracts Major Investors
(Bloomberg) -- Peloton Interactive Inc. shares jumped 16% after a $1 billion stock offering drew the interest of major investors, a sign Wall Street is ready to look past a grim forecast earlier this month.
The shares rose to $54.85, marking the biggest one-day gain since May 2020. The stock had declined 45% since Peloton slashed its annual revenue forecast by up to $1 billion on Nov. 4. The company also lowered its projections for subscribers and profit margins, renewing concerns that the end of the pandemic would bring a prolonged slump. 
The stock sale initially jarred investors when it was announced early Tuesday, sending the shares down 8% in early trading. The move dilutes current holdings, but Peloton vowed to use the money to step up growth -- helping restore optimism in the company. Durable Capital Partners LP, TCV, and funds and accounts advised by T. Rowe Price Associates Inc. all expressed an interest in buying shares, the company said.
The stock offering was a surprise, but "could strengthen the company's balance sheet and provide capital for potential acquisitions to diversify its strength-fitness offerings," Amine Bensaid, a Bloomberg Intelligence analyst, said in a note. 
The rally also may reflect a sense that the preceding selloff may have been overblown. In a report, Bank of America analysts noted that the company's monthly churn rates remain low and Peloton is a leader in its industry.
"Peloton has been our most disappointing stock in 2021, but we think in-home fitness growth is far from over," analysts Justin Post and Joanna Zhao said in the report.
This is the first public stock sale for Peloton since its 2019 initial public offering at $29 per share, according to data compiled by Bloomberg. Goldman Sachs Group Inc. and JPMorgan Chase & Co., the two lead banks on the IPO, underwrote the new deal as well.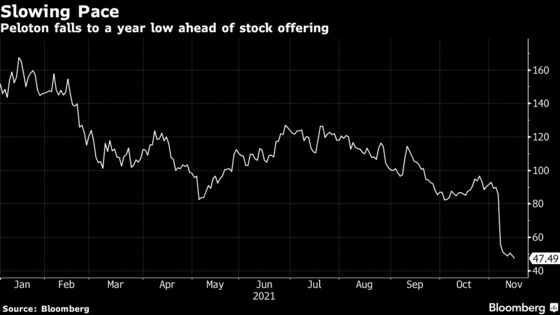 On its quarterly earnings call earlier this month, Peloton said it underestimated the impact of economic reopenings on people's desire to continue working out from home. Its fiscal first-quarter results missed analysts' estimates for revenue and loss per share. But another figure also caught analysts' attention: Free cash on hand shrank by about $680 million from the previous quarter, leaving Peloton with about $924 million of cash and equivalents.
Short interest in New York-based Peloton has grown this year. It comprises 9.5% of the public float, according to data from financial analytics firm S3 Partners.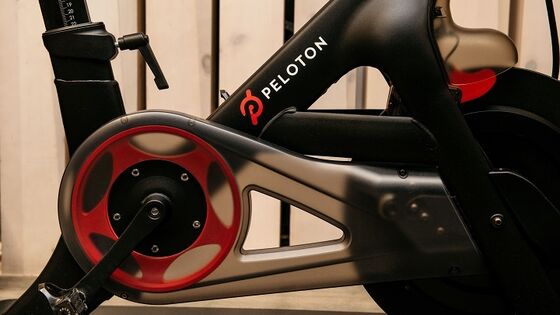 Analysts peppered executives on the earnings call with questions about the cash situation, and Chief Financial Officer Jill Woodworth said, "We don't see the need for any additional capital raise based on our current outlook."
Read more: What does Peloton's stock sale mean?
In a statement Tuesday, Peloton reiterated that the company is "sufficiently capitalized."
"We see an opportunity to expand our liquidity position to ensure we are making the best strategic decisions for Peloton's medium and long-term growth opportunity," Peloton said.
Given those remarks, the "offering muddies Peloton's near-term strategy," Bensaid said. But if Peloton does pursue M&A, he pointed to privately held companies such as Tonal and Tempo as possibilities.
Peloton's offering priced 23.9 million shares at $46 each. The company expects to see net proceeds of $1.07 billion.