Peloton Takes Aim Beyond Gym to Expand Cult Following
(Bloomberg) -- The broader the tribe, the greater the growth. That appears to be the new bull mantra that stands to drive Peloton Interactive Inc.'s shares higher.
Peloton's stock was a rare bright spot this week amid the S&P 500's worst week since 2008. Shares gained 5% in the week and could rise even further. The at-home fitness provider is expected to roll out new equipment and a pricing strategy that could have broad appeal beyond the usual fitness fanatics, analysts said in a pair of newly published reports.
"In-home fitness is real, not a fad. Just 20% of gym members choosing to get fitness equipment creates a $20 billion [total addressable market] and we expect Peloton to capture that," Bank of America's Justin Post said in a phone interview. Post has a buy rating on the stock and a price target of $36.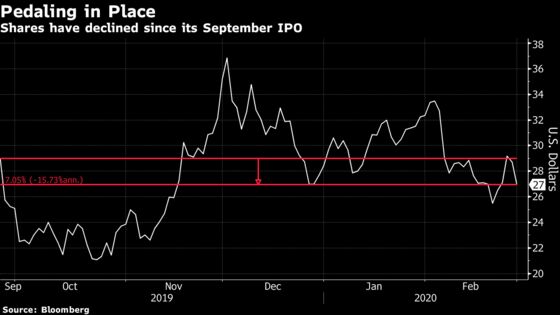 In an updated report following investor meetings with the company, Post wrote that he underestimated Peloton's reach. A Peloton-run survey showed that 60% of new subscribers in 2019 were non-gym members. That could mean a total addressable market beyond the 80 million gym members in countries where Peloton already has a presence, he wrote.
New premium-priced products also stand to open up market opportunity, as prices on current bicycle models are lowered, Post said. In the near-term that may eat into gross margins, but that should build "economies of scale" in its hardware business and drive subscriber additions higher, he said.
Macquarie Group echoed the sentiment as it relates to cost and market opportunity in an initiation report Friday. "The new product offering expands the accessibility factor," analyst Paul Golding said in a phone interview. He initiated with an outperform rating and a price target of $38.
Peloton's upscale brand image and price tag of $2,245 for a bike, plus $39 monthly subscription fee, has been broadly cited as a mass-appeal hurdle. However, Golding's research showed that belonging to the Peloton Tribe is cheaper than SoulCycle after the first year. After three years, riders would have paid a total of $9,800 at SoulCycle for twice weekly classes, compared to $3,649 by a Peloton rider. Peloton only becomes cheaper than the average gym, however, after the ninth year in cumulative fitness costs, he added.
Meanwhile, the coronavirus can cut both ways, he added. The likelihood of a drop in retail sales is possible in the near term, though, fear could also drive more people to exercise at home.