Peloton Shorts Make Up 70% of Float and They Aren't Going Away
(Bloomberg) -- Peloton Interactive Inc. should start getting used to short sellers.
Short interest accounts for 70% of the available shares and is expected to remain high until the IPO lockup expiry on March 24, according to financial analytics firm S3 Partners. Bearish positions have been steadily increasing since late November. Almost 29 million shares are held by short sellers, and borrow fees are starting to hit as high as 50% for new supply, according to Matthew Unterman, a director at S3.
Higher borrow fees are "indicative of increased demand to short and decreasing availability in lending pools," he said.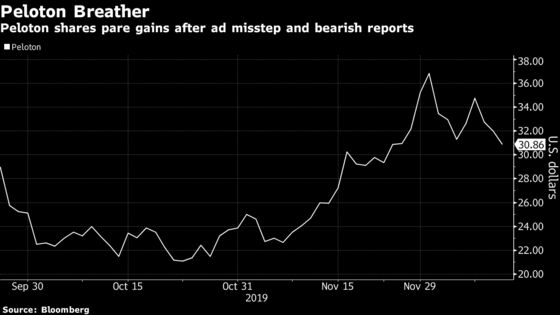 Shares of Peloton have fallen 16% from their Dec. 2 high in the wake of backlash from a controversial TV ad. Earlier this week, short-seller Citron Research predicted the stock would fall to $5 per share next year due to increasing competition and stale hardware. On Thursday, Hedgeye warned that the stock could fall by half.
Sell-side analysts tracked by Bloomberg are nearly unanimously bullish on the stock, with 20 buy recommendations, 1 hold, and no sells.