Peloton Analysts Ignore the Plunge on 'Hills of Worry'
(Bloomberg) -- Wall Street analysts rallied around Peloton Interactive Inc.'s second quarter results, lifting price targets on the at-home fitness provider's upward trending fundamentals. Shares slid in early trading as guidance for its next quarter missed estimates. But analysts with buy-equivalent ratings appeared optimistic that weakness will eventually dissipate.
Peloton shares fell as much as 11% on Thursday with UBS saying the company was "climbing the hills of worry with a steady cadence" in a reference to its stationary bicycles. Bulls were more bullish in reports, though, BMO was skeptical about the company's strategy to drive connected-fitness subscriptions and cut its price target. Upside in the second quarter was, in part, at the expense of the third quarter as faster order-to-delivery times shifted units forward. However, KeyBanc said not to "sweat" the shifts.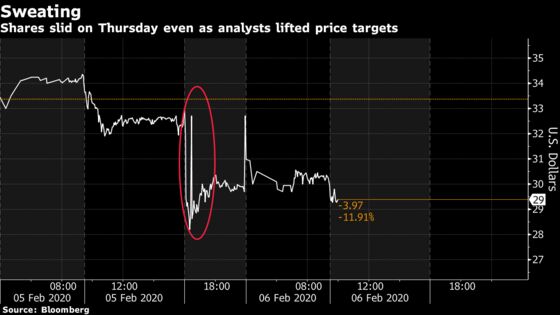 Here's what the analysts are saying:
Key themes emerged in the second quarter, including a show of improved "go-to market execution" with its at-home trial, holiday promotions, and speedier deliveries.
"Execution should lessen fears; lockup likely produces short-term volatility."
Affordable financing options, subscription media that promote usage while lowering churn, and the "sense of community" created by instructors and members bode well for long-term operating trends.
Maintains buy rating, price target $40.
Evercore ISI (Lee Horowitz)
Second quarter fundamentals exceeded expectations across metrics, with subscriptions, churn, sales, gross profit, and adjusted Ebitda beating consensus estimates.
"The only fundamental issue to pick at is perhaps a lack of upside to the FY20 sub guidance, which was only raised 8K above the 2Q beat."
Connected fitness trends "debunk the bear theses," given the encouraging low churn of 0.9% in the quarter compared to the firm's estimates of 1.04%.
Boosts target to $34 from $30, maintains outperform.
Quarterly results "strong" aided by faster deliveries, though, third-quarter outlook will add to "controversy" around the company.
"While the F3Q outlook may not have matched high expectations, F2Q results and full year outlook reaffirmed our positive views on Peloton's execution, progress on penetration opportunity."
There remains potential for profits to come in sooner than expected.
Lifts target to $36 from $35, affirms buy.
MKM Partners (Rohit Kulkarni)
Key "yellow flags" were around Peloton's guide, with the company issuing what Kulkarni likened to a "fuzzy" outlook with deceleration expected in the March quarter and suggested acceleration in the seasonally slower June quarter.
"We stay on the sidelines, particularly as the company moved up its lock-up expiration to Feb 23, ahead of its blackout period."
Raises target to $28 from $26, but maintains neutral rating.
BMO Capital Markets (Simeon Siegel)
Remains a fan of the product, but is cautious about shares given concerns around management's announced push to digital, which was only up 3% quarter over quarter despite price cuts to subscriptions.
"As the gap in price grows wider than the gap in value, more may trade down than up, leaving us wary of lofty expectations."
Lowers target to $26 from $27, affirms market perform rating
Sales and profitability in adjusted Ebitda terms came in above expectations as churn dropped.
"While the Feb. 24th lock up expiration is likely to create significant near term volatility, we continue to believe that Peloton represents a significant long term opportunity."
Peloton management said that faster delivery times, relative to last year, pulled roughly 6,000 deliveries forward from the third quarter.
Boosts target to $42 from $40, affirms buy.
Adjusted Ebitda loss was "dramatically better" than the firm's as well as consensus estimates. Second quarter results were better than expected, apples-to-apples, but some of the upside was at the expense of the third quarter.
"If there is a bone to pick with the strong 2Q results and updated outlook, it is that the 3Q guidance was somewhat underwhelming."
Affirms outperform rating, target of $37.
Better than expected order-to-delivery times during the holiday shopping season, shifted unit sales to the second quarter from the third quarter.
"Don't sweat shifts, strong results."
Affirms overweight rating, price target $45.