Pegasus Sinks as Curbs on Its Hub Seen as Boosting Rival Airport
(Bloomberg) -- Shares in Pegasus, Turkey's biggest discount airline, fell after the country's civil aviation authority limited new flights at its Istanbul home base in a decision seen as encouraging traffic through the new international airport outside the city.
No requests for additional flight frequencies or new routes using Sabiha Gokcen International, operated by Malaysia Airports Holdings BHD, will be approved, according to a Civil Aviation Directorate document seen by Bloomberg. The authority cited "capacity insufficiency," and continuing maintenance work and heavy traffic as reasons for the curbs. Pegasus Hava Tasimaciligi AS, to give the carrier its official name, fell as much as 7.3%.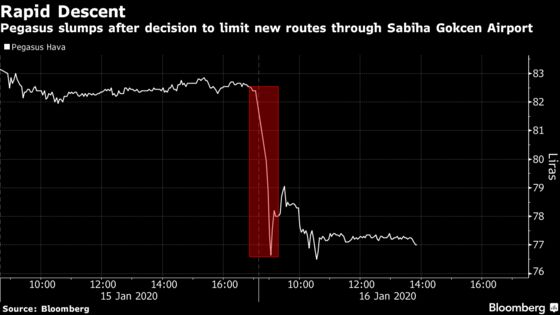 "This move would help the new Istanbul airport grow faster this year," Burak Isyar, head of research at ICBC Turkey Investment in Istanbul, said in an emailed note. "The growth at Sabiha Gokcen would be through higher load factor, but not through new aircraft and/or frequencies," he said. The decision is positive for Turkish Airlines, which uses the new airport as its hub.
Istanbul Sabiha Gokcen, the city's second airport, runs at around 80% capacity, with 625 flights a day compared with a maximum of 798, according to people with direct knowledge of its operations and capacity who asked not to be identified.
The airport, which has a second runway due for completion next year, served 35.5 million passengers in 2019, against capacity for 41 million, according to data from the airports authority. On its busiest days, arrivals and departures reach 720, still short of the ceiling, the people said.
Officials at Sabiha Gokcen declined to comment. A spokesman for Pegasus wasn't immediately available to comment.
News of the restrictions came against a backdrop of complaints about the new Istanbul airport, which had to divert several incoming flights in the past two weeks because of strong winds. IGA, which opened in April about 40 kilometers (25 miles) northwest of the city center and is operated by four Turkish builders, declined to comment.
On Monday, Pegasus said it expects available seat kilometers, a measure of capacity, to rise by 12% to 14% in 2020, with its fleet expanding by 10 aircraft. The company intended to use five of the new planes at Sabiha Gokcen, and must now consider options including locating them at other local airports, delaying their delivery or leasing them to rival carriers, according to Isyar.
Pegasus was 6.7% lower as of 3:09 p.m. in Istanbul, while Turkish Airlines was 3% higher.
Turkish Airlines will start international flights to 28 destinations out of Sabiha Gokcen from March through its low-cost unit Anadolujet, state-run Anadolu Agency reported. "Turkish Airlines confirmed that they already have slots for these flights and they will not be affected negatively by the announcement," ICBC's Isyar said.
Pegasus was the best performing stock in 2019 on the Borsa Istanbul 30 Index, a gauge tracking the shares of Turkey's largest listed companies, with gains of 277%, while Turkish Airlines was among the worst five stocks, as it fell 10%. The divergence in the stocks of the two carriers reflected investor concerns that Turkish Airlines faces increased costs following its move to its new base.