Pearson Shares Jump on Promise of Return to Profit Growth
(Bloomberg) -- Pearson Plc, the world's largest education company, reported a smaller than expected decline in U.S. college courseware sales in a boost to Chief Executive Officer John Fallon's turnaround efforts. Its shares jumped the most intraday since May.
Fallon said Pearson was on track to return to underlying profit growth, in a third-quarter sales statement Wednesday, as he tries to bounce back from years of weakness driven by lower rates of college enrolment in the U.S. and students renting textbooks instead of buying them.
Revenue from U.S. higher education fell 3 percent in the first nine months of the year, less than the 4 percent decline expected by analysts, according to a company-compiled consensus.
The results could cement confidence in Fallon's "digital-first" strategy as he tries to stabilize Pearson after a series of profit warnings and deep cost-cutting; the U.S. decline was partially offset by digital sales growth.
This quarter was crucial for Pearson as students bought materials for the new academic year; revenues were held back by delays rolling out software, which Pearson expects to be offset in the fourth quarter.
The company has sold newspaper the Financial Times and its stake in the Economist to focus on education. Fallon has cut 10,000 jobs since becoming CEO in 2013.
Pearson shares rose as much as 7.7 percent, the most since May, erasing much of a recent decline driven by concern that the quarterly numbers could disappoint investors. The stock was up 2.9 percent at 8:41 a.m. in London.
Short interest had been rising before the sales release. At least eight investors have disclosed short positions in Pearson, according to regulatory disclosures, representing about 79.5 million shares, or 10.18 percent of the company's outstanding stock.
The bulk of analysts still recommend selling Pearson's shares. Ian Whittaker, an analyst at Liberum, said Wednesday in a note that despite the positive language in Pearson's results statement, there is no top-line growth and operational trends remain weak.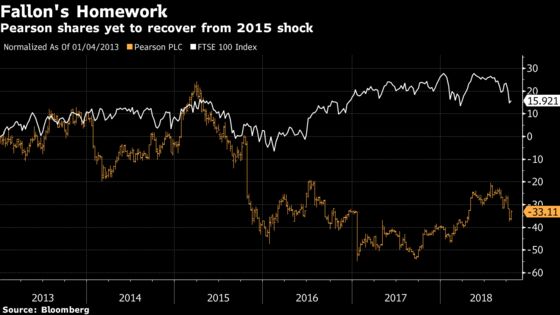 Pearson Sees Full Year Adjusted EPS 68p To 72p