Passengers Allowed to Leave Cruise Ship After Italy Virus Scare
(Bloomberg) -- Passengers who've been kept aboard a cruise ship near Rome due to concerns over a virus outbreak began disembarking, even as two cases of coronavirus were confirmed elsewhere in Italy.
Some 7,000 passengers on the ship, owned by Carnival Corp., had been held in the port of Civitavecchia since Thursday morning, after a passenger came down with fever and respiratory symptoms. Subsequent examinations showed the illness was not coronavirus.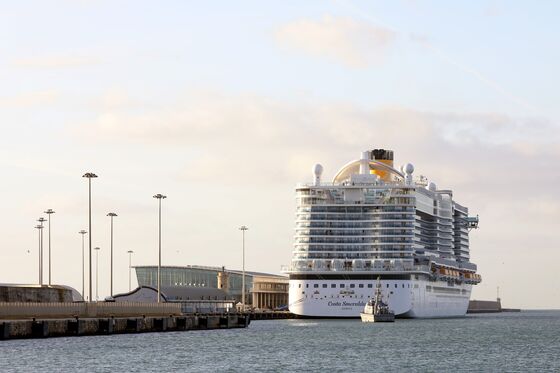 "We're free," disembarking passengers chanted at the port Friday morning. Some people on the ship had taken to social media to protest the lockdown and lack of information on board.
"There's no panic, we only are very sorry we couldn't see Rome," Agata Wieczorek, 36, a Polish tourist on the cruise with her family, said by phone on Thursday.
Prime Minister Giuseppe Conte moved to cancel flights to and from China after two cases of coronavirus were confirmed elsewhere in Italy and the patients, who'd traveled to the country from China, were put in isolation in a Rome hospital.
Eighteen Chinese tourists were taken by bus to the hospital in the capital as a precautionary measure, according to health authorities. Italian television station Canale 5 reported that the two infected patients came from the group on the bus or had been in contact.