Passenger Arrivals to U.K. Collapse During Pandemic Travel Curbs
(Bloomberg) -- The number of passengers arriving in the U.K. almost totally collapsed in the second quarter as coronavirus restrictions brought international travel to a standstill.
Home Office figures published Thursday show there were just 1.3 million arrivals between April and June, a 97% decrease compared with the same period of 2019.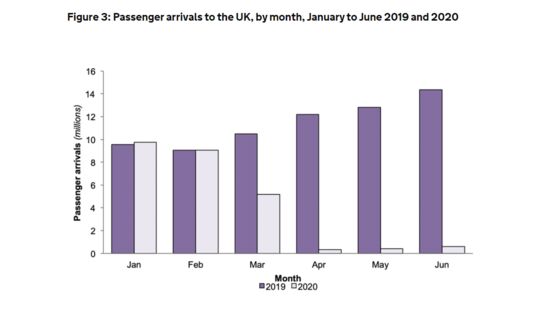 The figures underscore the pressures on travel companies such as Virgin Atlantic Airways Ltd., which was plunged into crisis after the virus grounded flights and the U.K. government denied it aid from a multi-billion-pound bailout fund. The U.K. economy contracted the most on record in the three months through June, and the question now is how quickly it can recover.
Experimental Home Office statistics using different sources show that arrivals by air picked up last month as restrictions eased, though the number was still only around one tenth of that in July 2019. Travel in recent months has also been impaired by the closure of visa application centers.
In a separate release, the Department for Work and Pensions said that fewer National Insurance numbers were granted to overseas nationals entering the U.K. during the quarter than at any time since records began in 2002.
The 72% decline from a year earlier was driven by registrations for European Union citizens after Britain left the bloc in January. NI numbers are needed to work in the U.K. and claim welfare benefits.
Prior to the pandemic, immigration to the U.K. was rising, driven by an increase in non-EU nationals coming for study, particularly those from India and China, the Office for National Statistics said. In the year through March, net migration -- the difference between long-term arrivals and departures -- stood at 313,000, the highest since 2016.