Party City Sells $750 Million Bond as Investors Seek Yield
(Bloomberg) -- Party City Holdco Inc. sold $750 million of new bonds to repay a loan due next year, becoming the latest company to take advantage of a hot junk bond market after yields hit a new record low.
The party supply retailer boosted the size of the offering by $25 million after receiving strong demand from investors, according to people with knowledge of the matter who asked not to be named discussing a private sale. The company was also able to cut the interest it's paying on the senior secured bonds due 2026 to 8.75%, from initial discussions of a yield in the 9.5% to 10% range.
The new notes jumped to as high as 103 cents on the dollar shortly after being sold at par, according to Trace. JPMorgan Chase & Co. led the deal. A representative for the bank declined to comment.
Party City, which is rated in the CCC tier, sold the debt Tuesday as junk bond yields continue to plunge. Average speculative-grade yields dropped below 4% for the first time ever Monday, and riskier CCC bonds are also paying a record low of 6.21%, according to Bloomberg Barclays index data.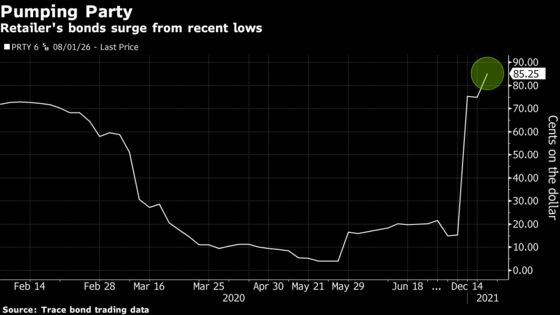 The company, one of the world's largest suppliers of party goods, saw its stock and debt prices sink last year after it was forced to temporarily close its stores to stem the spread of Covid-19 and the pandemic kept would-be revelers at home. The shutdowns made matters worse for Party City, which had been facing slumping revenues and a helium shortage in 2019 that hurt balloon sales.
Still, it was able to cut its debt through a bond exchange last year and its notes due 2026 have rebounded from distressed levels to trade around 85.25 cents on the dollar, according to Trace bond trading data. Its loan due 2022 rose nearly a cent to trade around 98.6 cents, according to data compiled by Bloomberg.
Moody's Investors Service rated the new notes Caa1, or seven steps into junk. S&P Global Ratings graded the bonds an equivalent CCC+ and upgraded Party City to CCC+ from CCC "to reflect the improvement in its maturity profile and a highly leveraged capital structure," according to a statement Tuesday.
Elmsford, New York-based Party City has around 830 stores in North America and also sells its wares online.